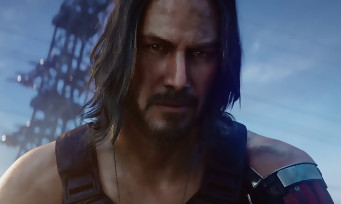 Even more than V, Keanu Reeves is undeniably the star of
Cyberpunk 2077. Besides, everyone remembers his "you're breathtakingdelivered at Microsoft's E3 2019 conference, in response to a fan who, when he appeared on stage, was blown away. On a recent 5 News & Rumors a Day, we wondered what the actor Canadian thought of the game, and more specifically of Johnny Silverhand, the character he plays, well, when releasing its latest quarterly results, CD Projekt RED gave the beginning of an answer.

Indeed, the president Adam Kiciński said: "He played the game. To my knowledge, he hasn't finished it yet. But he played it, and he loves it."Of course, we don't have to take his word for it. Note that, during this presentation, the Polish studio recalled the system put in place for the marketing campaign (TV spots and posters visible in Paris, Chicago, New York, Los Angeles, London, Warsaw, Hong Kong, for example), the five Night City Wire broadcast, the 23 million views generated by the last gameplay trailer (November 19), or the total location of the game (dubbing + subtitles) in ten languages.

As a reminder, Cyberpunk 2077 is expected for December 10 on PC, Xbox One, Xbox Series X, Xbox Series S, PS4 and PS5.