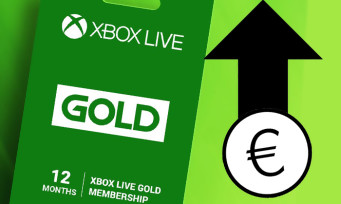 After several years of offering a stable price that hasn't budged, Microsoft has decided it is time to increase its price list for its Xbox LIVE Gold. An announcement that was made on theXbox Wire site, where the American manufacturer communicates publicly with its community. This increase applies immediately, but Microsoft reassures that those who have a subscription of 6 or 12 months in progress will not be impacted until the end of their subscription. Better, if the subscription is renewed, there will be no impact on the price which will remain the same. A price increase that varies according to the type of subscription chosen, between 2 € and 18 € additional.
– Monthly subscription: € 8.99 instead of € 6.99
– 3-month subscription: € 23.99 instead of € 19.99
– 6-month subscription: € 47.99 instead of € 29.99
The bill is therefore salty for those who wish to subscribe to the 6-month subscription since this represents an increase of 18 €. We take the opportunity to recall that the 1-year subscription was withdrawn last summer in France, but that it still exists in the United States, and on this subject, know that an American player must pay $ 120 more than 'before, or double the price charged for the PlayStation Plus. Microsoft explains that its prices have not changed for more than 10 years and specifies that the countries which are affected by this price increase will be informed directly by email. Of course, with such a significant increase, Microsoft recalls that the monthly price of Xbox Game Pass is € 9.99 or € 12.99 in its Ultimate version. A subtle way to switch players to this much more advantageous solution, both for the players and for the American manufacturer. Not crazy the wasp.