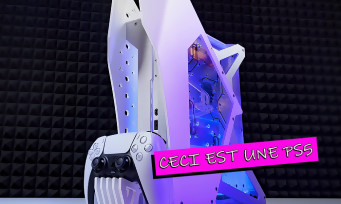 Despite Sony's best efforts, the PS5's processor heats up significantly, as the integrated radiator cannot work miracles. This is where the watercooling solution comes in: liquid cooling. Of course, Sony Computer Entertainment doesn't offer this original option, which has prompted a group of Thai PC modders to get to work. The little guys from the Modding Café YouTube channel have therefore decided to completely mod the Sony console in order to give it a new look, and increased performance.
Indeed, now that the chips vary their frequency according to the load and their temperature, it becomes possible to gain power simply by improving the cooling. Thanks to a watercooling, the chip of the PS5 will be able to turn fully as long as necessary, without having to lower its frequency. That said, there are many ways to do water cooling. The easiest way is to glue an exchanger (waterblock) on the components to be cooled, then to connect them by a little piping, before bringing everything to a radiator via a water pump. If this solution is the easiest, it involves risks of leaks, and requires a lot of space to house its piping, not to mention the questionable aesthetic aspect.
None of that for Modding Cafe which embarked on the production of a tailor-made distribution plate for the PS5 motherboard. Here less risk of leakage, and above all a super classy result visually, because free of the maximum number of pipes. But now, this distribution plate required a titanic work of the Thai people who had to spend many hours designing it via CAD, before going to find an industrialist with a CNC machine (an industrial milling machine) to manufacture their object. . Nevertheless, in view of the result, we can only admire the job accomplished, the result seeming simply professional, and industrial, while it is a pure product of craftsmanship. It's simple, you'd think the system came out of the catalog of a major builder like EK Waterblocks. Of course, Modding Café didn't stop there, as they created a new chassis to house their water-cooled PlayStation.