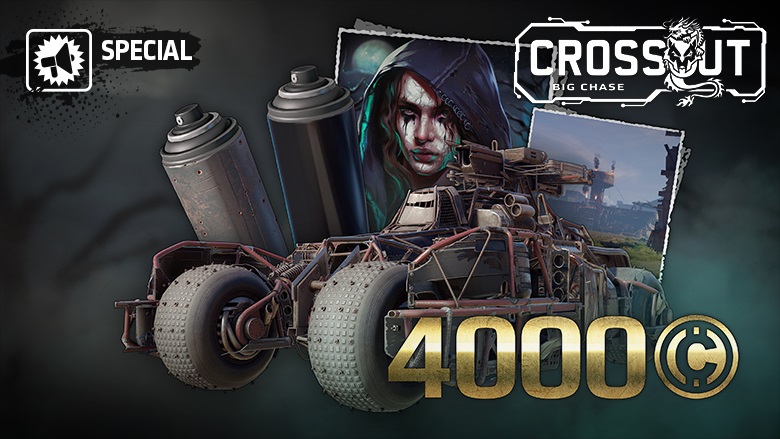 Hello, survivors!
The deluxe edition of the first and so far the only set from the "Arbiter's entourage" series is available in the in-game store! Don't miss out on this offer, because in addition to the new crossbow "Varun" and the frontal wheel "Sabbath", you will also receive 4000 coins, 3 days of premium subscription as a gift and the magnificent "Copperhead stadium" garage!
Attention! The offer is valid from September 20, 12:00 GMT, until September 25, 23:59 GMT.
The pack can be purchased with crosscrowns on all platforms. Even if you have previously purchased the pack on your platform's store, you can re-acquire it for crosscrowns. In this case, you will receive all those items that can be issued again. When purchasing the pack for crosscrowns, each player receives 3 days of premium subscription as a gift.
Eater of souls (Deluxe edition)
All players who buy the pack get the "Copperhead stadium" garage as a gift!
Unique armoured car: "Eater of souls";
New weapon of epic rarity: "Varun";
New frontal wheel: "Sabbath" (4 pcs.);
Unique character portrait: "Alva";
Unique paint cans;
4000 in-game coins.
Additionally, the player receives:
Unique background and logo for profile customization;
Unique decor: "Raven's eye" (2 pcs.);
Unique hologram: "Soaring soul";
A set of stickers;
Access to new structural parts;
Maximum number of parts increased to 55.
The Arbiter's daughter has been drawn to the otherworldly since she was a child, but her father taught her only to drive and shoot, with the hope of making Alva his own bodyguard in the future. The Firestarters offered a compromise: they recognized the girl's potential and took her with them, continuing not only to nurture her cruelty but also providing her with occult knowledge. However, the shamans soon cast the young witch out for her different view of their ideology: while fire was the most important element for them, Alva drew her strength from death. She believed that by killing a man in a fair fight, one could take away the power of the defeated.
For years Alva wandered through the woods, communicating with spirits and searching for her destiny, until eventually she stumbled upon an abandoned armoured car in a cave in the swamp. The young woman decided that the vehicle was inhabited by an ancient raven spirit named Kutkh, who needed to absorb souls in order to live. The witch was able to start the car and returned to her father, who immediately offered Alva to become his bodyguard. Such cooperation was beneficial for everyone: the attempts on Petrolium's life happened quite often, and Alva with her armoured vehicle were eager to kill.