Gaming mice differ in some key ways from the average wireless Logitech mouse: they're often lower latency, come with better software for custom tweaking, support higher CPI settings, and use sensors that can keep up with faster movements. Most importantly, the best gaming mice will perfectly translate hand movements into cursor movements without wrecking your aim with issues like acceleration, angle snapping, or jitter (more on what those mean below).
Based on my own research, hands-on testing, gaming with a couple dozen gaming mice, and talking to professional gamers, the Razer Deathadder Chroma is the best gaming mouse. It uses an accurate 6400 CPI optical sensor and has a body shape no other gaming mouse has matched. It's fantastic for both palm and claw grips, has two perfectly positioned buttons on its left side, a matte plastic surface that keeps hand sweat at a minimum, and grippy rubber pads on the left and right sides that help with mouse control. The Deathadder isn't the lightest gaming mouse around, but it is still pretty light at 105 grams, and that's important. It helps the mouse glide well and allows you to make quick, precise movements without slinging around extra weight.
Of course, gaming mice aren't like processors or graphics cards—performance and price aren't everything. It's important for a gaming mice to perform well, but it's just as important for it to fit your hand, to be comfortable and right for your grip and the way you play games. While the experts I've talked to believe that lighter, simpler gaming mice are better than heavier, more complicated ones, the same mouse isn't going to work well for everyone. With that in mind, I also have recommendations for gamers who want an ambidextrous mouse, gamers who want a smaller mouse suited to a smaller hand, and gamers who want to spend a bit more money for the best mouse sensor currently available.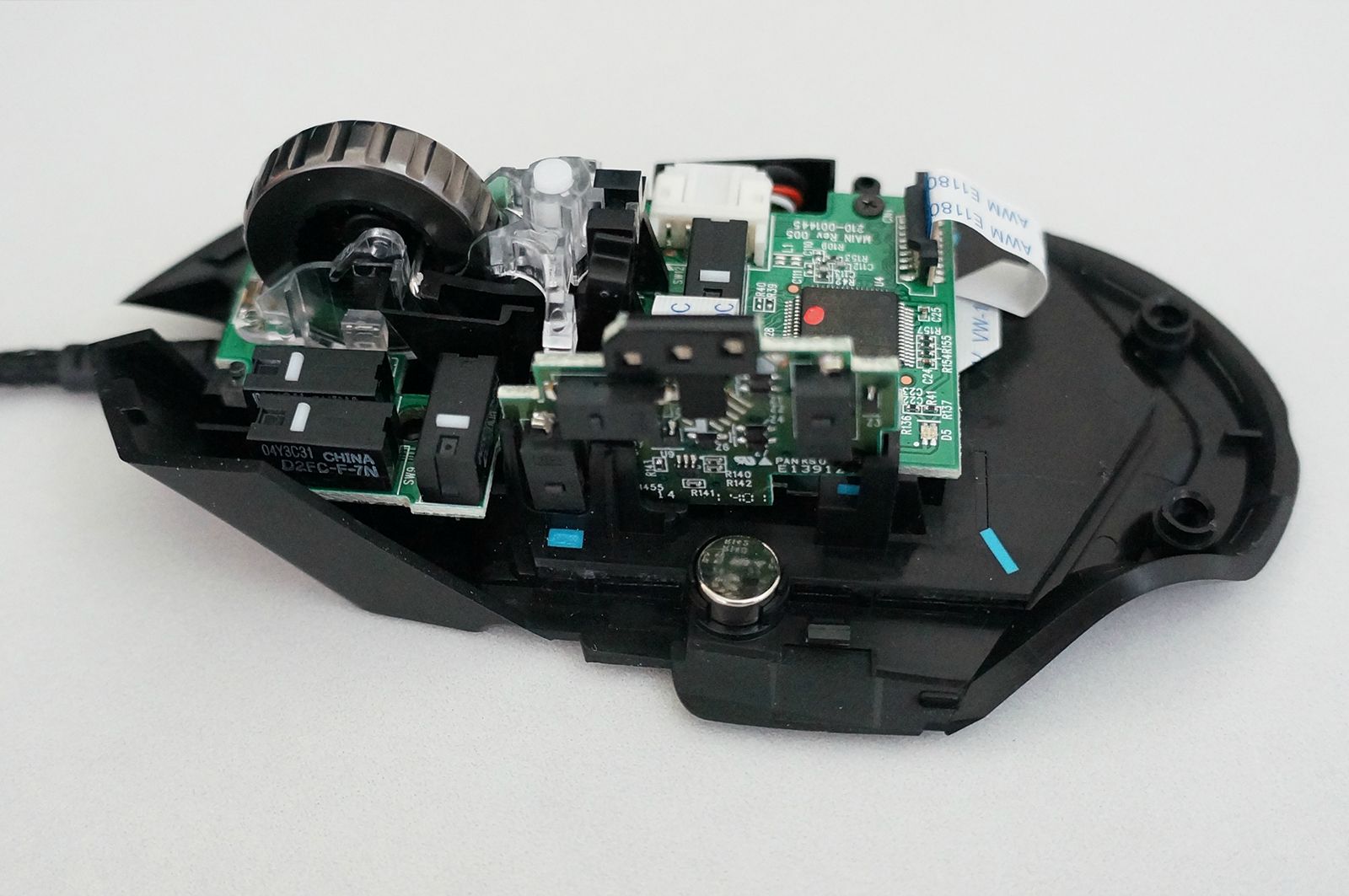 Testing gaming mice
I've used enough gaming mice to have a good feel for build quality, button placement, and shape. My opinions on those aspects of mouse design are naturally subjective, but they're also well-informed. The tricky part of testing gaming mice is analyzing the other part of the equation: tracking performance, jitter, angle snapping, acceleration, and perfect control speed, and determining how each of those issues affect the experience of using a mouse.
What do all those terms mean? If you're deeply interested in the intricacies of gaming mice, you can read this amazingly thorough guide on Overclock.net. But here are some basic definitions that will help you understand why each of these terms are important issues.
Grip refers to how you hold the mouse. The most common grips are palm, claw, and fingertip. Here's a good example of how each grip works.
CPI stands for counts per inch, or how many times the mouse sensor will read its tracking surface, aka your mousepad, for every inch it's moved. This is commonly referred to as DPI, but CPI is a more accurate term. The lower the CPI, the further you have to move the mouse to move the cursor on screen.
Jitter refers to an inaccuracy in a mouse sensor reading the surface it's tracking. Jitter often occurs at higher mouse movement speeds or higher CPIs. Jitter can make your cursor jump erratically, and even slight jitter could wreck a shot in an FPS or make you misclick on a unit in an RTS.
Angle snapping, also called prediction, takes data from a mouse sensor and modifies the output with the goal of creating smoother movements. For example, if you try to draw a horizontal line with your mouse, it won't be perfect—you'll make some subtle curves in the line, especially at higher sensitivities. Angle snapping smooths out those curves and gives you a straight line instead. This is generally bad because it means your cursor movements won't match your hand's movements 1:1, and angle snapping isn't going to be useful in most games. Thankfully, almost all gaming mice have angle snapping disabled by default.
Acceleration is probably the most reviled, most scrutinized issue with gaming mouse sensors. When a mouse sensor exhibits acceleration, that means that your cursor will move faster the faster you move the mouse; this is often considered bad, because it means moving the mouse slowly six inches across a mousepad will move the cursor a different distance than moving the mouse rapidly the same distance. This introduces variability that can be hard to predict.
Perfect control speed, or malfunction rate, refers to the speed at which the mouse can be moved while still tracking accurately. Most gaming mice will track extremely accurately when moved at slow speeds, but low CPI players will often move their mice large distances across the mousepads at very high speeds. At high speeds, and especially at high CPIs, not all mouse sensors are able to retain their tracking accuracy. The point at which the sensors stops tracking accurately will differ between CPI levels.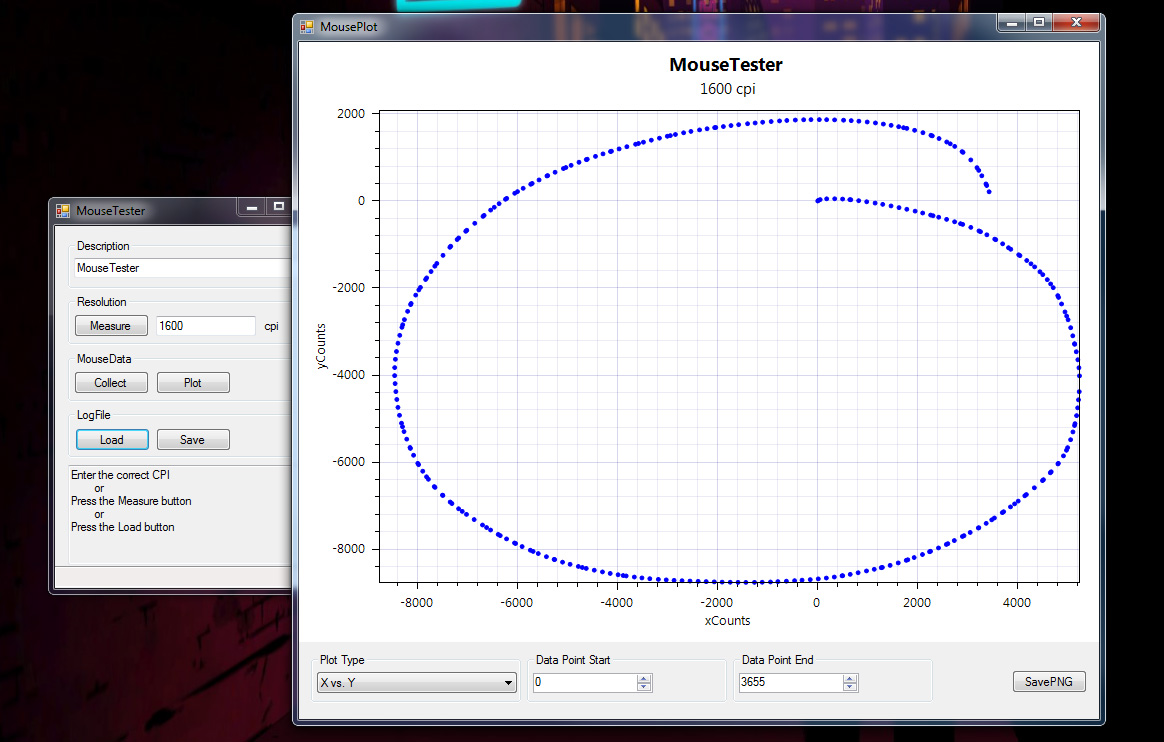 Lift-off distance is still a popular metric in mouse enthusiast circles, though it's not one that affects most gamers. LOD refers to the height a mouse has to be raised before the sensor stops tracking its surface. Some gamers prefer a mouse with a very low lift-off distance because they play at a very low sensitivity, and often have to lift their mouse off the pad to "reset" it in a position where they can continue swiping. With a low LOD, the cursor isn't going to be moved erratically when the mouse is lifted up.
I used a piece of software called MouseTester to see if I could spot any glaring issues with the mice I used. In every gaming mouse I tested, though, angle snapping and acceleration were disabled in the mouse drivers by default (though a mouse can still exhibit acceleration that comes from issues with the sensor itself) and I never encountered any glaring performance issues.
Like in audiophile circles, there's a small group of people who can notice and care deeply about the most minute differences in mouse sensors. But for most gamers, including myself, the differences are hard to pick up on in everyday gaming. I'm more concerned with the design of the mouse, the placement and quality of its buttons and its driver software, as long as jitter and acceleration don't crop up in my FPS and MOBA matches.
Competitors
I've used about two dozen mice over the past year, judging them by the criteria I've referenced to this point. How well does it fit various grips? Does the sensor feel accurate? How light is the mouse? How well does it glide? Are its buttons smartly placed and satisfyingly tactile?
Razer Mamba Tournament Edition:
The Razer Mamba Tournament Edition is a lighter, less expensive version of the wireless Mamba Chroma, and it's definitely a great mouse. It borrows most of its design cues from the Deathadder, but costs more money and adds a couple buttons to the top of the mouse. Unfortunately it's missing the wireless Mamba's coolest feature, adjustable click pressure on the left/right click. Ultimately, I think the Deathadder is slightly better ergonomically and comes in at a lower price, which gives it an edge over the Mamba TE.
Steelseries Rival:
The Steelseries Rival is a good optical mouse, but its right-handed body design isn't as perfect as the Deathadder's. I love its large, easy to click left-side buttons, but its rubber grips are almost uncomfortably rough. They're grippy, which is good, but they're not pleasant to rest your hand against, which is bad.
Razer Naga:
The Razer Naga, an MMO mouse, has a dozen buttons are arrayed in a grid on its left side. That's all well and good if you're looking exclusively for an MMO mouse, but for most other games, those buttons are bad news. They're small and identical, and they also take up a big chunk of the mouse side, making it harder to grip the mouse without pressing them. MMO mice simply aren't good for playing first-person shooters or other genres that prioritize speed and accuracy over lots of inputs.
Razer Naga Hex:
The Razer Naga Hex is a better general-purpose mouse than the regular Naga, but it's still not ideal for most game genres. It's oddly shaped, slanted heavily to the right, which places prominence on the six button array on the right side. A small nub in the middle of the hexagonal button grid lets you pinch the side of the mouse with your thumb, but I wouldn't recommend the mouse for most games. The plastic surface of the top of the mouse is also poor for grip and a sweat disaster waiting to happen.
Logitech G600:
The Logitech G600 is an MMO mouse that's not pleasant to hold or game with at all. The mouse body is squat, and the 12 buttons on its left side are mushy and unsatisfying to press. The groove on the right side of the mouse, where the ring is meant to rest, makes for a far-too-relaxed grip ill-suited to action games.
Gamdias Erebos:
The Gamdias Erebos is the only gaming mouse I've ever tested that caused me actual physical pain. It's an ambidextrous mouse with buttons on both the left and right side, and they're sharp. The right-side thumb button is easy to stab your pinky with. Pinky injuries are not good for grip.
CM Storm Havoc:
The CM Storm Havoc is slightly bulky, but its biggest issue is the smooth surface on the right side of the mouse. It's difficult to grip, which is bad for playing action-heavy games like shooters and MOBAs. The rubber texture on the scroll wheel is also a gross, smooth surface that feels bad under the finger and doesn't offer a very satisfying scroll.
Roccat Kone XTD and Kone XTD Optical:
The Kone XTD and Kone XTD Optical is a great mouse for gamers with larger hands. It has an excellently designed right-handed ergonomic shape, extremely customizable drivers, and a scroll wheel that clicks left and right, a feature I love from older (non-gaming) Logitech mice. But it's also an expensive mouse, and part of that expense goes into two LED stripes around the edge of the mouse that are smooth and slightly impact its grip. I found the lift-off distance in the Kone Optical to be very high, even after calibrating it. And $90 is a lot of money for a gaming mouse. The Logitech G502 Proteus Core is a newer mouse with a superior sensor and a similar size and grip. It's just a better choice.
Logitech G400s and G500s:
Logitech updated the G400s and G500s with new models after they were on the market for only a year. And they needed updating. The G400s feels thoroughly cheap, especially its terrible rubber scroll wheel, and while the G500s feels better, both have a too-smooth plastic surface and sensors that hardcore mouse enthusiasts have criticized since their release. Logitech's newer mice are definite improvements.
Logitech G402 Hyperion Fury:
That said, I still don't think the G402 Hyperion Fury, the replacement for the G400s, is a great mouse. It has a newer sensor, but the shape of the mouse and its button feel and placement is inferior to the G502. The spacing between the two thumb buttons and the two forward finger buttons creates an uncomfortable sharp edge. It's a pretty light mouse, which is good. But because of that, and the way your thumb fits into the side slot, you have to raise your thumb up to press the two side buttons, which adds a little lift to the mouse or requires you to reposition your thumb. Not ideal mid-gaming. I wouldn't recommend the G402 to anyone over the Deathadder or the G502.
Corsair M65:
The Corsair M65 is one of the top contenders that didn't make the cut, and I think it's a good mouse for FPS players who like bulkier mice. It has a great, heavy scroll wheel, very low lift-off distance, and a well-placed "sniper" button under the thumb. Unfortunately, its other thumb buttons are small, and you can't have your thumb in the cradle and press up to press them easily. You have to move your thumb up and press with flat of thumb. The driver software is also fairly ugly and barebones and not as feature-packed or well-designed as some of the competitors. It's on the heavy side, even with weights removed.
Mionix Naos 8200: 
The Mionix Naos 7000 and its successor, the 8200, is an extremely comfortable mouse. Its soft touch rubber coating feels great on the hand, and its right-handed ergonomic grip is slightly strange at first, but very comfortable once you adjust to it. The left-side buttons feel good to click, but are slightly too small and slightly easy to accidentally press. I have two primary criticisms of the Naos: its shape makes claw gripping awkward and difficult, so it's really only suited to palm grippers. And while its soft touch coating is comfy, it makes my hand sweat almost immediately when I start playing games, moreso than any other mouse I've used. Unless you have an extremely dry hand, that's an unfortunate deal-breaker.
Mionix Avior 8200: 
A perfectly serviceable ambidextrous mouse that can't quite beat the Steelseries Sensei on design or price. It's a bit larger ambidextrous mouse than the Sensei Raw, if that's what you're after, but the Sensei's design has remained unchanged for years and years for a reason.
Cougar 550M: 
The Cougar 550M is a decent mouse, as I wrote in my recent review. It looks nice and has a great mouse sensor with no acceleration issues. Cougar even recently lowered the price from $55 to $40, making it a much more attractive buy. It's not a bad mouse, but it's also not one of the best I've used. The other mice listed here are made from better materials and have nicer driver software. Many of them are also still within $10 of the 550M, making it hard to recommend over any of the better mice included here.
Roccat Nyth: 
As I wrote in my review, the Roccat Nyth is a great mouse. Surprisingly great. It's definitely the best customizable mouse I've ever used. So why's it down here? Because I'm not sure that many people are interested in a customizable mouse, and I haven't tested enough customizable mice to give this its own category. The Nyth's intuitive, powerful software is a huge plus in its favor. It's not perfect, but even in an early state it's some of the most flexible driver software I've used. If "best customizable mouse" does become a category, the Nyth will likely be the winner. But for now, it's hard to recommend to most gamers over the other mice on this list because it's simply so expensive. Unless you're very eager to change out your mouse's button layout, you can buy a better mouse for a third the price.
Razer Ouroboros: 
As I wrote in my guide to the best wireless gaming mice, the Razer Ouroboros is a very expensive wireless gaming mouse at $130, but it can also convert to a wired mode if you plug it in. Its side pieces can be swapped out so you can comfortably grip with either left or right hand. Unfortunately, it ends up being a mouse that feels like it was engineered for form over function.
Installing the Ouroboros' single AA battery requires unscrewing part of the mouse with a screwdriver Razer includes in the package, sliding off the palmrest, and opening a hatch–then reassembling the entire thing. I also found that, despite fiddling with power saving sleep options in the Ouroboros' drivers, the battery didn't last long. Razer claims 12 hours of continuous gaming, and says you can always "hot swap" with another AA battery to keep gaming. I don't think using a tiny screwdriver to remove a panel and access a hatch constitutes hot swapping. I regularly had the battery run out on me during regular use, even when the mouse was set to its lowest report rate of 125 Hz.
The Ouroboros can report at up to 1000 Hz, which is unusual for a wireless mouse. In practice, I couldn't discern a difference between 500 Hz and 1000 Hz, but it's an option some gamers will appreciate. Unfortunately, gaming with the Ourboros just never felt right to me. It's a heavy mouse at 140 grams, and while it slides very well, it also has a very flat profile that never quite felt comfortable for me. Testing the Ouroboros in Unreal Tournament just felt off, and I performed poorly with the mouse in most of my matches. After losing half a dozen, I switched over to the Logitech G602 and immediately started winning. Best as I could tell, there was no lag or latency affecting the Ourboros, but my gaming experience just never felt good.
Logitech G302 Daedalus Prime: 
The Logitech G302 Daedalus Prime is a small, lightweight MOBA-oriented mouse with great clicking action. But it's saddled with a good-but-not-great mouse sensor and now costs the same amount as the G303 Daedalus Apex, which uses the exact same body but houses a superior sensor. The G303 launched at a higher price and has since dropped to equal the price of the G302. At equal prices, there's no reason to buy the G302 over the G303, which is now my top choice for a mouse for a small hand, and for MOBA players.
Other mice I've used in the past include the Roccat Savu (too small for many hands), Logitech G9x (a classic with a fantastic body, but no longer made), Mad Catz RAT 7 (far too heavy, and $90), the Razer Taipan (its sensor has been criticized for acceleration issues, and its ergonomic shape can't quite match the Sensei's).
Future testing
There are still some gaming mice out there that I've never tested. It's a field crowded with hundreds of competitors. But most of the mice I've never used are cheap, with poor body designs or laser sensors that hardcore mouse enthusiasts criticize for accuracy issues. There are new mice coming out all the time, and I plan to test new mice and keep this article updated as they're released.
There are also some mice I haven't gotten my hands on that are either brand new or have a loyal fanbase, including the Zowie FK1, Roccat Tyon and Kone Pure Military. I also didn't consider MMO or wireless mice in this guide (though you'll note above why I think several MMO mice are bad for general gaming).
Wireless mice are, at best, going to equal the performance of other gaming mice, while generally costing far more money. I consider those separate categories from the best all-around gaming mouse, so we'll be testing those for their own articles.
A note on affiliates: some of our stories, like this one, include affiliate links to stores like Amazon. These online stores share a small amount of revenue with us if you buy something through one of these links, which helps support our work evaluating PC components.