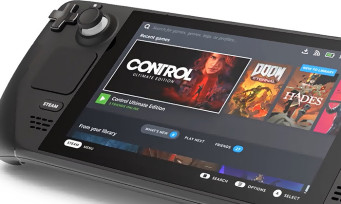 What was still mere rumors a few months ago is now official: Valve Software has indeed confirmed the arrival of its first portable console, which responds to the sweet name of Steam Deck. Let's face it, this is neither more nor less than a portable PC, which will be able to run the most demanding games without batting an eyelid. At least this is what Valve claims, which explains that we will find a modified version of Valve's SteamOS, with an interface that points to our Steam library. Valve Software goes further by ensuring that all Steam games will run effortlessly on this nomadic machine thanks to an emulator.
"which does not require any work from the developers"
. It must be said that on the technology side, the American manufacturer has decided to send the sauce with a Zen 2 processor from AMD, a graphics card, still from AMD, in RDNA 2, 16GB of RAM and a 7-inch IPS screen with a resolution of 1280×800 pixels. Autonomy level, we are talking about a 40 Whr battery, capable of running between 2h and 8h depending on use and play.
Introducing Steam Deck: powerful, portable PC gaming starting at 9. Designed by Valve, powered by Steam. Shipping December 2021.

Learn more at https://t.co/ZOTx3KUCVK and reserve yours tomorrow. #SteamDeck pic.twitter.com/jcgbaKfT9c

– Steam (@Steam) July 15, 2021
On the look side, if the controller has its directional crosses and buttons on either side of the console, it is difficult to find physical resemblances to the Nintendo Switch. The design is less harmonious, the choice of basic black does not also allow to highlight the look of the machine, while the location of the directional cross and buttons seems placed too high. A voluntary choice on the part of Valve who needed room to integrate a touchpad (with haptic feedback) for mouse controls, and even additional keys added to the back of the device (L4, L5, R4, R5 ). The Steam Deck also has gyroscopic features, while the sticks are capacitive, meaning that they are able to detect whether the thumb is on or not. If Valve has moved away from the Nintendo Switch in its physical rendering, the manufacturer has simply taken up the idea of ​​a deck on which you can plug the portable console and thus enjoy visual comfort on your television. Note, however, that this docking station will be sold separately from the Steam Deck.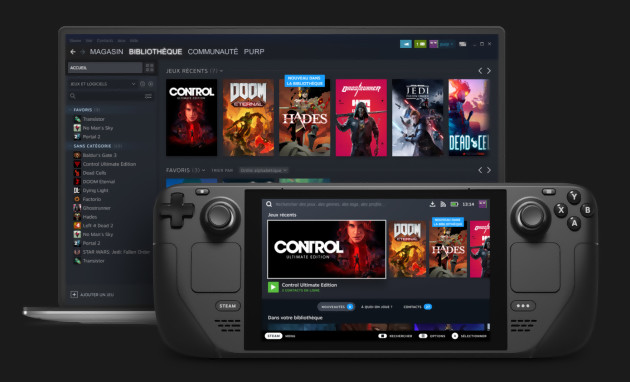 The device will be bluetooth and Wi-Fi compatible, will have stereo speakers, a headphone port, not to mention two built-in microphones for chatting with contacts. Like the new home consoles, the Steam Deck will be able to put a game on standby to resume instantly thereafter. Finally, to finish, know that the machine will be offered in 3 different models, which vary in price according to the storage capacities: 64 GB eMMC (419 €), 256 GB SSD (54 €) and 512 GB SSD (679 €). A port for MicroSD cards has not been forgotten, which will increase storage capacity and not get stuck stupidly. Valve has already announced that the first copies of the Steam Deck will ship in December 2021, with reservations opening July 16 at 7 p.m. You know everything !