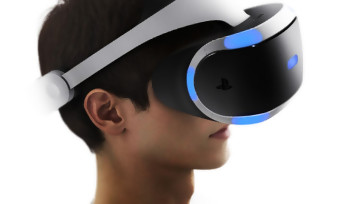 While PS5 owners are still waiting for news from PlayStation VR 2, Sony has officially announced that seven new games are coming to the PS4 virtual reality headset. The announcement took place during the PS VR Spotlight, and the least we can say is that the titles are downright envious.
– Arashi: Castles of Sin
Developed by Seattle studio Endeavor One (Halo Recruit), Arashi: Castles of Sin will make us play Kenshiro, a shinobi warrior who is the last survivor of the noble house of Arashi. Castles across the feudal empire of Japan have been beset by a ruthless horde of bandits called the Six Oni of Iga. Accompanied by his wolf Haru, Kenshiro will have to take revenge on the murderers of his family, while restoring justice across the archipelago. The action / infiltration game will land in the summer of 2021.
– Puzzle Bobble 3D Vacation Odyssey
Developed by Survios (The Walking Dead Onslaught), this new Puzzle Bobble opus will therefore be entitled to a PS VR version in addition to landing in a more classic way on PS4 and PS5. As always, the title will heat your brain by offering you several puzzles now fully in 3D. We will therefore be able to examine the riddles from all angles by using our cervicals. The game does not yet have a specific release date, but it will arrive later this year, we promise!
– Wind & Leaves
Green and relaxing atmosphere for the new title of Trebuchet (Prison Boss VR). Wind & Leaves will therefore propose to terraform the world in which we find ourselves in order to prevent a cataclysm. For the barren and arid lands to teem with life, we will have to choose the right varieties according to the soil, and even crosses between plants, in order to create new species that will be able to survive in the different environments that we will encounter. Wind & Leaves will land on July 27 on PlayStation VR.
– After The Fall
After the clamor of Wind & Leaves, the storm of After The Fall. The developers of Vertigo Games (Arizona SUnshine, Skysword) are arriving with a 4-player co-op FPS that is coming to the PSVR, and which will be cross-platform, in order to be able to blow up in VR with his PCist friends. In this game, we will craft our guns and then get rid of a post-apo Los Angeles zombie vermin that haunts its streets. No release date has filtered for the moment, but we can still watch this nice little trailer to wait.
– Fracked
We continue in the FPS, but this time with a production signed by nDreams (Far Cry VR: Dive, Phantom Covert Ops) whose graphics should bring back memories to aficionados of the Borderlands series. The action is at the heart of the game via hyper dynamic movements, including skiing, ziplines or climbing in order to be able to make carnage with a large arsenal. The game will be played only through the PS Move controllers, and will land on PlayStation VR this summer.
– Wanderer
Time travel and action are on the menu of this new indie game with downright luscious graphics. This uchronic trip which makes us think a little of "We Happy Few" in certain aspects will land this summer on PlayStation VR.
– Sniper Elite
Is there still a need to present the famous Rebellion saga in which Sergeant Karl Fairburn and his faithful Springfield bring the Third Reich to their knees? This new episode specially tailored for VR (which is developed with Just Add Water and Coatsink), will offer us a new adventure that we will live through the eyes of an Italian supporter who takes the bush with his brotherhood in order to counter the power du Duce. Here again, the PS Move controllers will be used to make your weapon in the most realistic way possible, whether it is to chamber a new ammunition in your Carcano rifle, or to reload your Sten. Sniper Elite VR will land on July 8, 2021.