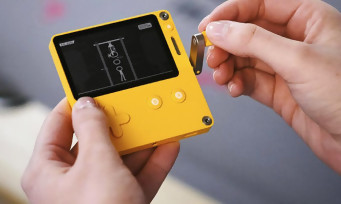 Yesterday evening, the publisher Panic (Firewatch, Untitled Goose Game) finally broadcast its conference on the Playdate, the famous yellow portable console equipped with a crank. Initially scheduled for release in 2020, the machine has borne the brunt of the COVID pandemic, and the closure of factories. The developers therefore took advantage of this extra time to create some small accessories, including a new dock. Called Playdate Stereo Dock, this base station which will accommodate the console via a magnetic attachment (and which will charge the latter) is actually a bluetooth speaker lined with a pencil holder! The fact remains that we do not know for the moment the price of this nice little gadget. A minimalist cover (called the Playdate Cover) was also unveiled for $ 29, to protect the front and back of the console. In addition, Panic announced that the machine will have its own game editor called the "Pulp Game Editor", while a dedicated application will allow us to listen to the radio. Remember that the concept of the Playdate is to offer a console, as well as several "seasons" of content. Thus, the first season will include 24 titles which will be released over 12 weeks, and which are signed by quite prestigious developers since we find Keita Takahashi (Katamari Damacy) or Lucas Pope (Papers Please !, The Return of Obra Dinn). Note that the games of this first season are included in the price of the machine.
Here is the list of titles that will land on the machine:
Casual Birder
Crankin's Time Travel Adventure
Battleship Godios
Boogie Loops
Casual Birder
DemonQuest 85
Echoic Memory
Executive Golf DX
Pinball Lifter
Forrest Byrnes: Up in Smoke
Hyper Meteor
Lost your marbles
Omaze
Pick Pack Pup
Questy Chess
Ratcheteer
Sasquatchers
Snak
Spellcorked!
Zipper
Saturday Edition
Whitewater Wipeout
The bad news in all of this is that the price has increased a bit since the initial announcement, from $ 150 to $ 175. It is specified that this is also a duty-free rate, and without shipping costs. So count probably around 200 € to have the Playdate in your hands. For more info on the Playdate, we suggest you take a look at our machine preview.