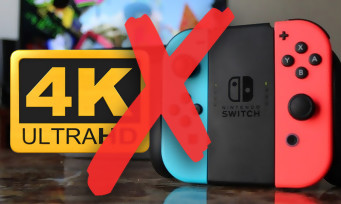 It is the insiders and analysts who will pull the mug, since Nintendo is categorical: no Pro 4K version of the Nintendo Switch is planned for the moment. This is Shuntaro Furukawa, the current President of Nintendo,
who told Bloomberg in an interview
regarding the company's financial results for the year 2020. It must be said that with incessant rumors around an improved version of the Nintendo Switch (which can also support 4K), Shuntaro Furukawa felt obliged to comment on these noises in the hallway and cut short all hope. The answer remains however rather vague, because the President of Nintendo prefers to highlight the collector models of the Switch which will arrive soon, those in the colors of Mario in February, then Monster Hunter Rise next March. It is very likely that Nintendo is already working on the successor to the Nintendo Switch, but there is also a good chance that we will change generation directly instead of being burdened with a mid-gen machine that ultimately would not have meaningless.
While waiting for more concrete elements, we can share the latest sales figures of the Nintendo Switch, insolent it goes without saying, with 75.85 million machines passed since its release in March 2017, while Animal Crossing New Horizons has just exceeded 31.18 million copies sold even before its anniversary date. But it's Mario Kart 8 Deluxe which remains the biggest box of the Switch with 33.41 million games sold and becomes the fourth best-selling game in Nintendo history. With such success, does the Switch really need a hardware upgrade in fine?