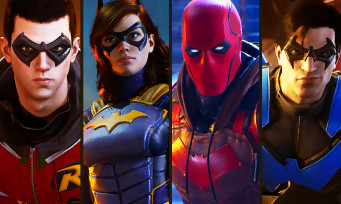 While it was supposed to come out this year,
Gotham Knights won't arrive until 2022, finally. This is indeed what Warner Bros. Interactive Entertainment through a tweet, where we learn that the developers of Warner Bros. Games Montreal wanted to give themselves extra time to ensure that the gaming experience is the best possible. It is not known if COVID-19 forced them to make this decision, but we are still promised to give us news from Gotham Knights in the coming months.

Moreover, let's not forget that on the side of Warner Bros. Interactive Entertainment, we also have Suicide Squad: Kill the Justice League on Fire (at Rocksteady Studios) for 2022; therefore, a busy year in perspective. As a reminder, Gotham Knights will focus on the post-Batman era with Robin, Nightwing, Redhood and Batgirl as new defenders of Gotham. If we can travel the open-world solo, the possibility of doing the whole adventure in cooperation is an aspect widely highlighted by Warner Bros. Games Montreal, as well as the RPG mechanics that will allow the characters to evolve during their journey.