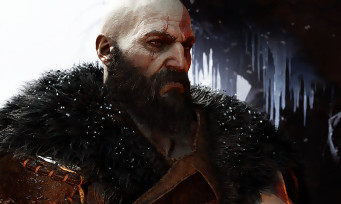 It has been known for a few days that God of War Ragnarok would be shown during the PlayStation Showcase on September 9, 2021 and Sony Interactive Entertainment did not disappoint. The follow-up to the adventures of bearded Kratos and his son Atreus were there, with a story that picks up exactly where the two warriors were left in 2018. Mimir will also be there and the man without a body was also quickly presented in this gameplay trailer of more than 3 minutes. The video mixes cinematics and gameplay images to the delight of the eyes, even if it must be admitted that the surprise is no longer as impactful as it was 3 years ago. However, these PS5 images of God of War Ragnarok promises a rendering as beautiful as ever, fights that are shaping up to be just as dantesque and gameplay that seems to open up more. Obviously, when we see Kratos sledding to navigate faster, we obviously think that the open world has grown. The boat sequences will also always be there, while new characters will appear. We see Thor who will be embodied in the game by the actor Ryan Hurst (Opie Winston in the Sons of Anarchy series) and who seems to be the right candidate to offer us an antagonist to Kratos worthy of the name.
Let's slip a little word on Týr, which we see standing in front of Kratos at the end of the trailer. He will be an important character since he is none other than the God of War, justice and law in Norse mythology. Imposing in size, it measures 2.60 meters, which certainly makes it a giant but remains smaller than a certain Lady Dimitrescu and her 2.90 meters. It remains to be seen whether he will be on Kratos' side or a potential enemy … On the other hand, what is certain is that we will see Freya again, still as bitter that Kratos killed his son Baldur to save her from certain death. She has sworn revenge and she still seems so determined. As for Atreus, he has grown up, his voice has also changed and seems determined to seek his identity, that of Loki. In short, the story of God of War Ragnarok seems to promise us beautiful things on the wasteland of Midgard.
Finally, to finish, know that this episode changes game director, since it is Eric Williams who takes the head of the project, leaving Cory Barlog to a position where he can breathe a little more, he who had given 5 years of his life for the reboot of God of War between 2013 and 2018. He remains present to make sure that all goes well that said.