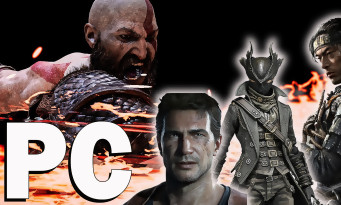 It's not a scoop for anyone, Sony Interactive Entertainment is slowly but surely letting its biggest console exclusives slip away to the PC world. There was Death Stranding and Horizon Zero Dawn in 2020, and more recently, Days Gone will be given a second lease of life in 2021. But it seems that Sony's plans are going a little further, with the deployment. titles deeply rooted in PlayStatopn's DNA, namely Uncharted, Ghost of Tsushima, Bloodborne and even GOD OF WAR. It's a certain leaker, known as @CrazyLeaksTrain on Twitter, who cracked a very explicit tweet.
that slate of Sony games for pc will be fun

Bloodborne

uncharted collection

ghost of Tsushima

god of war

– CrazyLeaksOnATrain (@CrazyLeaksTrain) March 4, 2021
Of course, we could not pay attention to this message posted a few minutes ago, except that this insider in question has unveiled many projects that have indeed seen the light of day afterwards. It is thanks to him that we knew in advance that the Kingdom Hearts saga was going to be adapted on PC, the same for Nioh 2 and Ninja: Master Collection. As much to say to you that this man knows how to be heard, and even if it is about the continuation of the political strategy of Sony Interactive Entertainment.