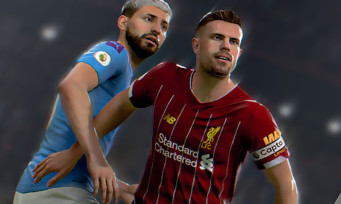 The release of FIFA 21 on Xbox Series X, Xbox Series S, and PS5 is getting closer (December 4), which is why Electronic Arts has posted the game's intro cutscene online. In 4K, it shows the moments leading up to a Champions League match between Liverpool and Paris Saint-Germain. A choice that is anything but trivial, since Kylian Mbappé and
Trent Alexander-Arnold are among the ambassadors of the game. The meeting taking place at Anfield Road, we are entitled to the legendary "You'll Never Walk Alone"sang all the supporters of the Reds, which allows the Canadian developers to recall that"Thousands of live chants have been captured exclusively for top competitions, including the Premier League, La Liga and Bundesliga, to deliver the EA SPORTS Atmospheric Audio experience."

We keep our fingers crossed that the next-gen will allow the series to take a leap forward in terms of immersion. "New pre-match cutscenes, such as the arrival of player buses before kick-off or the bubbling of fans entering the stadium gates, have been added to create an even more football experience. immersive for fans, we are promised. During the course of the matches, new reactions from the players, the bench and the fans will respond to key situations of the matches, which will allow the players to fully feel the explosive passion and the intense twists as in victorious goals in the last minute or rescuing equalizers from relegation."We can't wait to see it all.

In the meantime, you can always take a look at our fifa 21 test on machines of the previous generation.