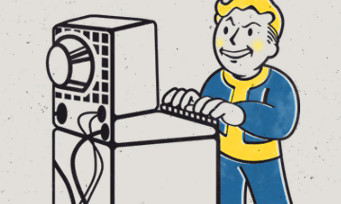 Released in November 2018, Fallout 76 will remain in the collective consciousness as one of the worst launches of a video game alongside a certain Cyberpunk 2077. Even Todd Howard, the producer of the Fallout series, has confessed that his game had been disappointing when it was released. But since then, water has flowed under the bridges and the developers have continued to improve the title with unparalleled follow-up. Well, know that 2021 will experience the same interest from its creators, since they have just revealed the content of the roadmap for the year 2021. We will have to expect large additional content, always more patches and new events to inflate interest around the software. Here is the full detail of what awaits you this year: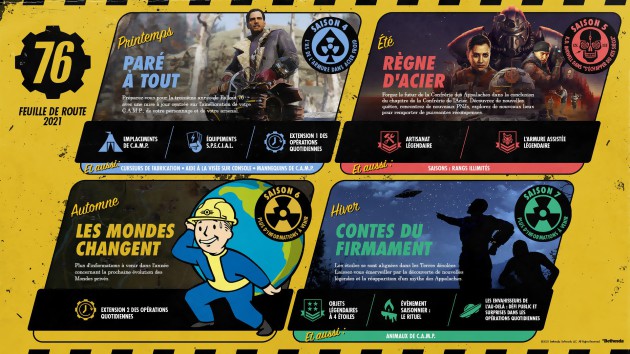 Spring
Players will need to be "Ready for Anything" with the Spring Update! It will bring SPECIAL gear, CAMP slots, camp dummies, and a whole new expansion of daily operations. To discover these features in detail, read the article Inside the Vault. Players owning Fallout 76 through the Bethesda.net Launcher can test out all of these new features and more in the current PTS session.
Additionally, this update marks the return of the Ace of Armor in a fierce battle against Commissioner Chaos and the Yukon Five! Season 4 brings new rewards for the SCORE board, whether it's cosmetic items, consumables, or more.
Summer
Last year, the Brotherhood of Steel arrived in the Appalachians, and players witnessed a conflict within their ranks and discovered new obstacles in their path. Reign of Steel continues the story of the Brotherhood with new quests, new locations, new NPCs, and powerful new rewards. Which side will the players be on? Their choices will forever change the Wasteland.
Legendary Mods will also arrive this summer, allowing players to craft specific Legendary items. They will be able to customize their build in detail to adapt it perfectly to their style.
fall
The winds of change are coming, and will bring an evolution of Private Worlds! More information will arrive in the coming months as the release approaches.
A new Daily Operations expansion is also planned to provide players with even more different ways to play.
Winter
This winter will mark the arrival of legendary 4-star weapons and armor as well as pets that players have requested for their CAMPs!
They will be able to face new dangers with an event from elsewhere. In the new public challenge, "The Invaders from Beyond," all players on a single server will unite to complete challenges, take on tough new enemies, and earn jaw-dropping rewards.
Appalachian fanatics are up to something sinister in the new seasonal event: The Ritual! Players will be able to help Point Pleasant fanatics prepare for this dangerous ritual and will be rewarded with unique rewards.