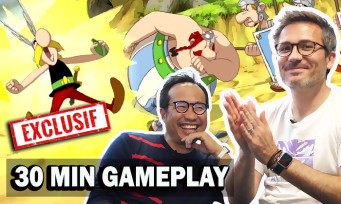 Announced last March,
Asterix & Obelix: Slap them All knew how to crystallize great expectations as Microids communicated around the game. Despite a hype more and more evident among players, and in particular fans of beat'em all in 2D, the title has remained in the dark for the past few months, continuing to elicit a lot of mystery. If the two trailers have really exhilarated us, we needed at least a grip to get a real idea about this title developed by Mr Nutz Studio, the creators of Mister Nutz on Super Nintendo and the most recent Toki released in 2018 on Nintendo Switch. Good thing, we had the opportunity to go to the Microids premises at the end of September to finally see what the game looked like. The opportunity to discover the sumptuous graphics, to familiarize themselves with the gameplay and its subtleties, but also to discuss its genesis with the producer of the game who is none other than Julien "Julo" Hubert, the former editor-in-chief of Gameblog. Together, we play in cooperation, one controlling Asterix, the other in command of Obelix. We obviously took advantage of the situation to extract information from him about the game, but also from his next project: the game Grendizer …

The release of Asterix & Obelix: Slap Them All is expected on November 25, 2021 on PC, PS4, Xbox One, Nintendo Switch and Mac, and the game is of course compatible on PS5 and Xbox Series.