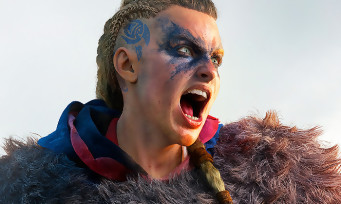 Faced with performance problems encountered by Xbox Series X on Assassin's Creed: Valhalla, Ubisoft released a new patch (1.0.4), and our colleagues at DigitalFoundry have verified its impact. Indeed, it was rumored that this new update was hurting PS5 performance, while some of the craziest rumors explained that Microsoft had asked the studio to make its console shine against the competition. The reality is quite different as explained to us by our colleagues from DigitalFoundry. The PS5 version has not changed one iota, the performance being strictly the same before or after the patch. And if you can see drops of one or two FPS on the video, be aware that we are still within the margin of error.
On the other hand, on Xbox Series X, the result is much more impactful, with performance improving. While we noted quite significant drops in framerate in certain cases (when the 60 FPS performance mode is activated), this is no longer the case. The developers at Ubisoft fixed the problem by simply changing the upscaling settings. Initially, both consoles had a rendering that hovered between 1440p and 1728p, or between 67% and 80% of UHD rendering. If these values ​​remain unchanged for the Sony machine, the Xbox Series X can now go down to 1188p, or 55% of UHD. Of course, this resolution is only used when needed by the machine, in order to guarantee a stable framerate.
As for the visual quality mode, both consoles boast a stable framerate of 30 FPS, with gameplay rendered in native 4K. On this point, the patch seems to have changed nothing either. Remember that this is the first Assassin's Creed which is playable at more than 30 FPS on consoles.