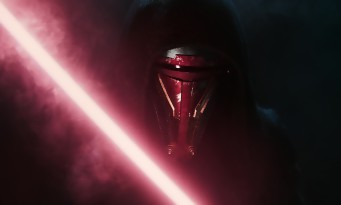 Rumors of a Star Wars: Knights of the Old Republic remake have been circulating on the Internet for years. We even remember that the very well informed Jason Schreir had even sold the wick last April during an online show with MinnMax. While the announcement at this PlayStation Showcase 2021 on September 9 was only half a surprise, the thing we didn't know was that the game will be a PS5 console exclusive. The game will be released on PC at the same time, but Xbox gamers will likely have to wait several months, if not a year, before they can get their hands on it. The Aspyr studio is in charge of the project and Ryan Treadwell, the producer, has made it clear that it will be a real remake with in-depth work done to bring this RPG monument back to life.
Where it is less exciting is that we learn about the PlayStation Blog that development is still in its early stages, knowing that the latest technology is being used to recreate the game from head to toe. It is for this reason that the "teaser" does not include any real image of the game and that we will have to be patient before being able to discover in-game images.
And now ? Star Wars: Knights of the Old Republic – Remake is a massive project that encompasses almost every aspect of the original game. Development is still in its early stages, but we're excited to finally be able to announce the remake and to hear feedback from the PlayStation community on what you've most been waiting for.

Finally, be aware that in the development team, some employees had worked on the original game more than 20 years ago. A guarantee of quality ? We don't know, but the desire to respect the original material will undoubtedly be there.