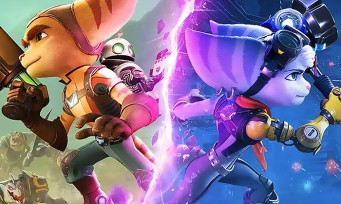 Only a few days left before the arrival on PS5 of Ratchet & Clank: Rift Apart, which has been unveiled many times in recent months. Technically impressive, the new game from Insomanic Games intends to be part of these games "technological showcase" of the PS5 and the developers are starting to communicate around the choices that the player can make so that his video game experience is the most adapted to his equipment. . It is through the Twitter account that we learn that 3 graphics / performance / Ray-Tracing modes have been developed for the game. A treatment reminiscent of the one that had been done for Marvel's Spider-Man during the release of the PS5 last November.
– "Quality" mode: 4K | 30fps | Ray-Tracing
– "Performance" mode: 4K | 60fps
– "RT Performance" mode: 4K | 60fps | Ray-Tracing
Players who update # RatchetPS5 on launch day gain access to our Performance & Performance RT Modes.

Enjoy a sneak peek at 60fps gameplay with ray-tracing enabled! pic.twitter.com/85ecP4LDZl

– Insomniac Games (@insomniacgames) June 5, 2021
We remember that to obtain the "Performance RT" mode, the developers of Insomnic Games had managed to use the tools of the PS5 so that the game could juggle between a 4K display and Ray-Tracing, depending on what was happening. on the screen. Less reflections or less pedestrian density depending on where Spider-Man was located, there had certainly been concessions, but on the screen, it was absolutely not visible. Hopefully that will be the case for Ratchet & Clank: Rift Apart, whose release is scheduled for June 11, exclusively on PS5.