The test
Announced at E3 2019 under the name of Gods & Monsters, Immortals Fenyx Rising has meanwhile changed its name, of course, but always kept this same ultimate reference and assumed on the part of Ubisoft: The Legend of Zelda. Having your own Link is an idea that no sane publisher would balk at, despite the obvious risk of breaking your teeth at the complexity and finesse of the Nintendo franchise that are difficult to imitate. For our French firm, already well at ease with open-worlds and action-adventure, the exercise lent itself rather well and she entrusted it to Ubisoft Quebec, Canadian studio behind Assassin's Creed. Odyssey. The latter was also widely used in the construction of Immortals Fenyx Rising, whose setting takes place in the middle of Greek mythology: from an artistic and scriptwriting point of view, therefore, a good part of the work was already chewed up. It is therefore with obvious curiosity that we immersed ourselves in this brand new franchise on PlayStation 5, also available on all other media of the moment, current as a new generation. Should Nintendo be shaking?
Although the developers are the same as for the very good Assassin's Creed Odyssey, it is necessary to emphasize that where it was part of a mostly historical framework, Immortals Fenyx Rising, it takes the bias of pure mythology. . So here we are in the skin of Fenyx, a character whose gender and appearance you will determine by a modest editor, delivered to his destiny: to save the Golden Island and, more generally, Greece from the terrible Typhoon. Really uncool titan once beaten by Zeus and now freed from Tartarus, determined to break just about everyone's shins, he has imprisoned the powers of the Olympian Gods and frozen all humans to stone. Which is not extremely warm, we will agree. As a matter of fact, only Fenyx is still alive and he will then have to fulfill the prophecy, dictated by Prometheus. The latter, still attached to a pole, condemned to have his liver devoured by a bird daily, then makes a pact with Zeus: if Fenyx succeeds in saving Greece, then the King of the Gods will have to free him from his condemnation. Thus, from the top of Olympus, bickering constantly, the two Gods will watch our hero accomplish his destiny and, throughout the adventure, will serve as voice-over to punctuate the story.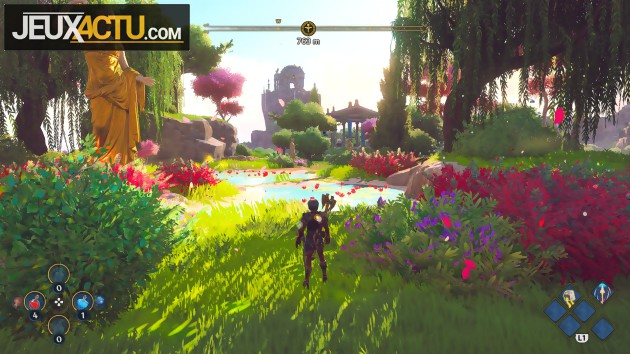 THE LEGEND OF FENYX
If there's one point where Immortals Fenyx Rising surprises, it's in its almost constant humorous tone. Of course, the journey will play the card of mysticism and Legends, but will above all focus on the recurring jokes of Zeus and Prometheus, true narrators of the story, who will not hesitate to comment on the action in the middle of the game. like in cutscenes. Multiplying the current references, sometimes breaking the fourth wall, they will also be the main way to revise your Greek mythology lessons since they will review the different stories with humor: you therefore learn a lot of things in a good mood and, there It must be admitted, these two characters are clearly the great strength of the narration. For the rest, the writing is a bit jagged: we see ultra-predictable twists, others not, jokes that hit the mark … and others that fall apart. Its weakness clearly remains its staging, with a problem of rhythm in the dialogues when two characters meet, betting everything on an outdated shot-against-shot, too long periods of silence between two lines or damn rigid animations. We then follow the plot mainly for the valves of Prometheus and Zeus (the latter being dubbed by Lionel Astier), but, ultimately, not really for what it basically tells us. A half-fig, half-grape cocktail, which still lacks a little depth and danger to really catch your breath.
COLD BLOOD
The Golden Island is a rather vast place whose regions are directly linked to the Gods: we therefore find the Valley of the Eternal Spring of Aphrodite, the Den of the War of Arès, the Woods of Kleos of Athena, the Land of the forge of Hephaestus as well as the Peak of the King of Zeus, the west of the map being part of the greenery unlike the west, dry and rocky. For each area, you will have to climb to the top of the corresponding statue of God to "locate" the places, a mechanism that we no longer present at Ubisoft, before marking all the surrounding points of interest. Among these, an abundance of chests containing loot – helmets, armor, swords, axes, wings and their cosmetic variants – and countless … puzzles. The "Gates of Tartare" thus send us into mini-dungeons with various and varied challenges: pure platform and mostly puzzles as well as some fights. This is certainly the other strength of Immortals: the game is full of this kind of events and you will spend hours and hours activating switches to clear a passage from point A to point B. And at least, we can not say that the developers have skimped on the means since the whole is frankly varied, some puzzles being sufficiently well thought out so that we can overcome them on our own, and not necessarily by those recommended by the game. Be careful, however: sometimes "too much is too much" and some players will find themselves overwhelmed by a huge amount of trials … to the point of overdose. It's up to you to see what suits you the most, but take it yourselves.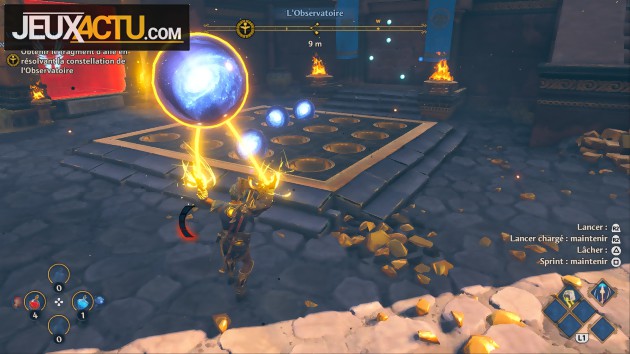 Of course, dozens of other challenges will be offered, either through the main frame, or optionally to complete the map. In reality, it is more than recommended to take them up since they will give access to resources to reinvest in the improvement of Fenyx: its energy (endurance to use powers, to sprint, to climb, etc.).) , its various capacities (new attacks or new aptitudes to move in the environment) or its weapons, armor and objects (in order to increase the points of damage, defense or the quantity of potions / arrows. Additional lives can be obtained via crystals to be found everywhere. You will have understood it: it is clearly requested to explore and tackle all the optional tests to progress and avoid being faced with enemies that are too recalcitrant which will slow down your progress. However, no experience level system, for you or for the enemies, is installed, which could perhaps make the difficulty a little nebulous. is therefore in known terrain, there is nothing very original but the formula works correctly: we also have an RPG side with weapons and armor with different properties, which we can either recover from the chests, or by spending virtual money (which can be obtained from in-game challenges or by taking out the credit card).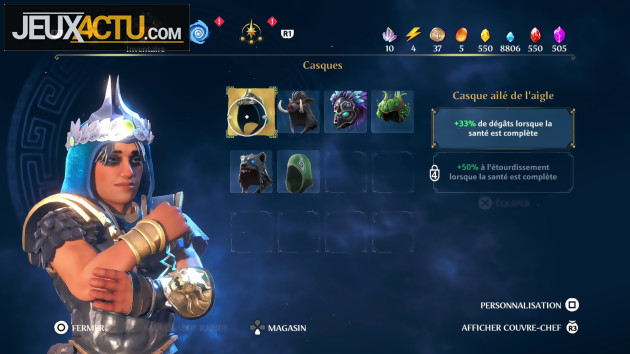 ATTENTION DARLING, IT WILL CUT
If at the beginning of his story, Fenyx is far from being a warrior (or a warrior, depending on your choice), he / she will quickly discover a passion for fighting: armed with a sword (corresponding to a trigger ) and an ax (corresponding to another), he / she will be able to chain light and heavy blows easily, shoot arrows with his bow, counter certain blows or even escape them with a dodge key. Magical powers are also to be unlocked and then made available: overall, we feel that Ubisoft is reusing the gameplay and mapping of Assassin's Creed Valhalla a bit, which is sure to comfort connoisseurs. The clashes then go rather well: the whole is very fluid, responsive and accessible, and tends to become denser by purchasing new skills. However, once our cruising speed has been found, we will then go around in circles, especially since Ubisoft has not thought of other bladed weapons than the sword and the ax. The other models that we will recover will only change their properties but in no way the combos, which would have deserved a little more depth: in the same way, we can defeat all the enemies using the same blow or the same technique (except some flying in the air, and more) and it would have been more judicious, undoubtedly, to impose on the player precise techniques for such or such adversary in order to ventilate the gameplay.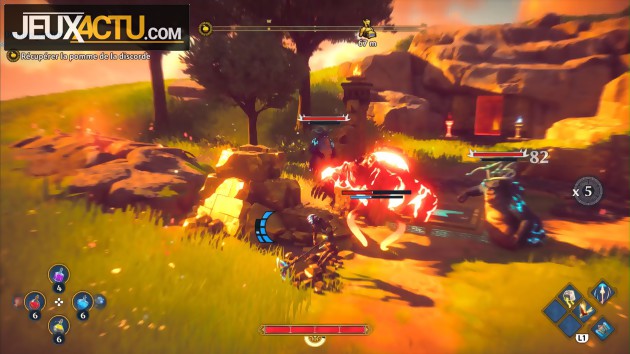 Once we have sufficiently developed our character, we will indeed start to drive severely on all the monsters in our path, then losing their dangerousness … Moreover, let's not forget that several difficulty modes are available: in normal mode, we thus took about twenty-three hours to complete the adventure, and not necessarily in a straight line (and we are far from having completed the game 100%). On the other hand, it is clear that apart from the pleasure of discovering new enigmas, the completion of the world also brings a certain weariness. No more environmental surprises are to be expected and, above all, the few rare side missions given by the Gods really lack panache, relying on almost no scenario or line of dialogue. This is a bit what we appreciate and what we reproach Immortals Fenyx Rising: it is very strongly inspired by Breath of the Wild in many of its mechanics, to be sure, and the whole thing is turns out to be pleasant … but without succeeding in taking back this particular finesse and mystery. So we find ourselves in a sparkling adventure, in a constant good humor but also smooth, a little superficial. However, the bases are there and they announce an obvious potential, not yet exploited in this first episode with the eminent sympathy.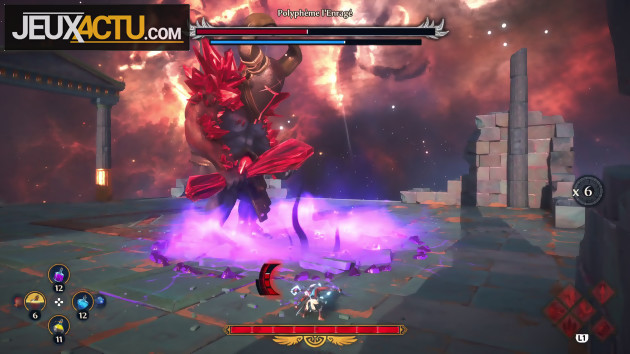 CUTE TITAN
To tell the truth, this global sympathy does not always benefit Immortals since it is completely in line with its artistic direction and its character design: it's quite simple, the enemies, even the big bad Typhon, look more like plastic toys than they do. 'to real threats. In other words, we do not feel very intimidated and even if it is a definite bias, we would no doubt have wanted more panache, more gossip to represent Greek mythology. Of course, we imagine that the difficulty of Ubisoft was not to fall into the plagiarism of God of War, which for once painted the portrait of an ancient Greece ultra-violent but oh so striking. This cartoonish aspect, almost "Fortnite", is also felt in the environments even if some very beautiful panoramas are to be expected (and fortunately). Apart from that, we can not say that Immortals is a technically bluffing title, far from it even since it addresses relatively modest graphics. On the other hand, on the soundtrack side, Ubisoft did a very good job with finely composed orchestral music, imbued with frankly tasty epic vibes. In its finality, the Quebecois studio therefore signs a work that can still be improved but which supports undeniable qualities, leading to an experience of obvious freshness and rather successful. With a little more depth, it could well become a serious competitor of our guy in the green tunic.