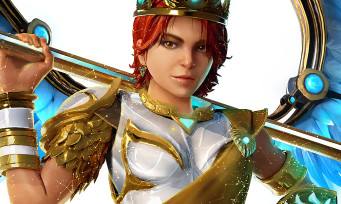 It's been two months since Immortals Fenyx Rising released on PC, PS4 and Xbox One and Ubisoft felt it was time to start adding content to its Zelda Breath of the Wild-inspired action-adventure game. We learn that a first DLC is now available for purchase for € 14.99, which is obviously accessible for those who have purchased the Season Pass. This campaign extension takes place directly after the end of the main story events, and Fenyx's new status allows her to march alongside the Olympian Gods. However, new challenges are imposed on him so that our character can access even more to the divinity, with of course the attribution of new powers.
Immortal Field Breaker, improved Athena's Charge:

players will be able to traverse the Immortal Fields and deal more damage while charging.

Colossal strength, improved strength of Heracles:

players will be able to manipulate colossal items and deal more damage by throwing them.

Gust of wind, improvement of the Wrath of Arès:

Fenyx's uppercut charge will create a flow of air for a few seconds that will allow players to rise a little higher in the air when they land their shot.

Exchange with Phosphorus:

players will be able to trade their position with a Phosphorus decoy for an endurance bar.
Unsurprisingly, there are new challenges, new puzzles to solve and additional equipment to recover. The trailer also provides an overview of these novelties.
Finally, be aware that to attract a little more people, Ubisoft also offers a free playable demo, available on all the machines on which the game was released. In the demo, Fenyx is tasked with uncovering the mysterious secret of the Cyclops and the playable part takes place in an archipelago designed exclusively for the demo and inspired by the region of Aphrodite in the game. There is a mixture of combat, of exploration and puzzles to get a nice overview of the game.