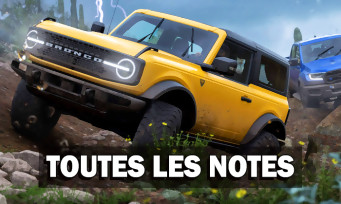 That's it, it's done, Forza Horizon 5 is finally available on Xbox Series X | S, Xbox One and PC with a launch with great fanfare on the side of Microsoft who did not hesitate to organize parties in physics for the return of a franchise loved by all. Of course, on the press side, the tests have fallen and it is time for us to give you an assessment of the marks obtained around the world. To do this, nothing very complicated, we go to Metacritic to find out how much the title of Playground Games has obtained. The score is final:
91% for the rating recorded on Xbox Series X for a total of 85 reviews
(ours is obviously counted too), it is one point less than
Forza Horizon 4 which had collected the median score of 92%
. This remains of course a huge performance for the game which has received moreover only positive evaluations and without any rating below 80%. Hats off.
Vgames: 10/10
ImpuleGamer: 10/10
MondoXbox: 10/10
AreaJugones: 10/10
Stevivor: 10/10
Dexerto: 10/10
Windows Central: 10/10
IGN: 10/10
GamesRadar +: 10/10
VGC: 10/10
Hobby Consoles: 9.7 / 10
Power Unlimited: 9.6 / 10
Jeuxvideo.com: 19/20
Game Informer: 9.5 / 10
Multiplayer.it: 9.5 / 10
TrueGaming: 9.5 / 10
Vandal: 9.2 / 10
Millenium: 9/10
Meristation: 9/10
Gameblog: 9/10
Gamespot: 9/10
Carole Quintaine: 18/20
Destructoid: 8.5 / 10
VideoGamer: 8/10
EGM: 8/10
GamesBeat: 8/10