This week's reset in Destiny 2: Forsaken has seen the addition of a dungeon run, The Shattered Throne, and an vital new change to Petra Venj's Gateway between worlds bounty.
On completion of this bounty, you'll now obtain a 3rd Seed of Light that may allow you to unlock the third new Super Subclass path. We've received a useful guide on how to unlock the primary two, but it surely was thought for a time that the third might solely be unlocked by defeating Kalli, the Corrupted, within the Last Wish raid.
Now, lower-level gamers will have the ability to unlock a brand new subclass path just by finishing this bounty. It prices 40 Dark Fragments to unlock, so be sure to full Petra's different bounties or look out for chests to collect these.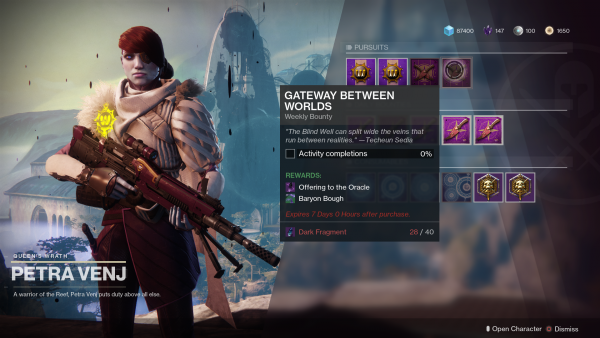 Much like before, gamers should compete in numerous tiers of The Blind Well to fill the bar to 100% and in return will probably be rewarded with an providing to the Oracle.
This time, after you work together with the Oracle Engine, you'll open a portal to the Queen's Court and will probably be greeted by the Queen of the Reef herself, Mara Sov. She'll reward your companies with a chest, and in amongst the traditional sort of loot you'd count on there will probably be a Seed of Light.
This week has seen the Taken curse darken the Dreaming City map significantly and we're heading into the ultimate week of the curse earlier than the following huge map reset, so there's no assure this will probably be a everlasting means of incomes a brand new Seed of Light. We recommend heading to the Dreaming City as quickly as you may to finish the bounty earlier than the reset subsequent Tuesday.
If you're seeking to enhance your energy stage or discover some Exotic weapons, take a look at our ultimate Destiny 2: Forsaken guide.