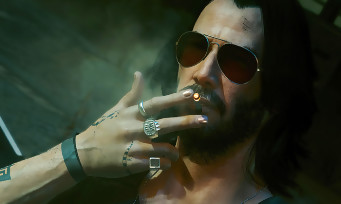 Whatever one can say, Cyberpunk 2077 was planned as a huge commercial box and there was no shortage of it. As the game continues to receive huge patch patches to catch up with the branches as best it can, Project CD has just released a few numbers about its FPS and, yes, it crushed everything in its path:
we are talking about 13.7 million sales, and that in … 2020 alone.
As a reminder, the RPG was released on December 10, which gives you an idea of ​​how hard the community has rushed into it.
– CD PROJEKT IR (@CDPROJEKTRED_IR) April 22, 2021
To go into detail, we also learn that dematerialized sales represent no less than 73% of sales and that among these, 53% come from the PC and Google Stadia. On PS4, digital sales represent 24% compared to 17% on Xbox One. On a less funny note, the Polish studio also claims to have reimbursed roughly 262 million euros to disgruntled players. It's tough, but fair play. Another very interesting figure, which goes hand in hand with the sales figures, is the number of reimbursements made following the controversy that shook the game, the studio and the industry in general. CD Projekt Red reports that only 30,000 copies of the game have been reimbursed by the studio. A figure that does not take into account the refund by Sony or Microsoft, which means that it should not be taken for a final result. However, these 30,000 returned copies represent 0.23% of the total number of sales, which ultimately tends to prove that despite the bad buzz, the players kept their copy, no doubt to give it a chance, hoping that the patches correct the problem. game. There are also the others who are lazy to do the repayment procedures, it also seems obvious to us.
– CD PROJEKT IR (@CDPROJEKTRED_IR) April 22, 2021

By the way, let's also underline a few words about The Witcher 3 which continues to sell like hot cakes with a score of 30 million cumulative sales. In total, the trilogy has therefore reached 50 million copies sold: a resounding success that should not end since CD Project has already announced the preparation of a fourth episode. It promises.
– CD PROJEKT IR (@CDPROJEKTRED_IR) April 22, 2021