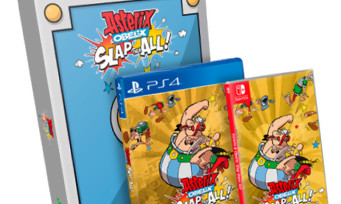 We have known since this summer, Asterix & Obelix: Slap them All! will be marketed with several collector's editions. Microïds has already communicated on it, but let us know today that an ultra collector's version is also planned for PS4 and Nintendo Switch. What is the difference with the others, you will ask us? Quite a few things in truth, starting with a new figurine of Asterix and Obelix in gold-colored resin of 13.5 cm of the most beautiful effect. But that's not all, we realize that we will also be able to benefit from a set of metal cards, a coin flanked by the head of Julius Caesar, a poster, postcards , coasters, stickers, artwork printed on good cardboard, an LED hologram lamp, and finally a case in the shape of a Roman legionary's shield. Better, Microïds lets know that it will integrate the three Asterix games of the XXL license, namely Asterix: XXL Romastered, XXL2 Remastered and XXL3: Le Menhir de Cristal! The whole will be sold 149.99 € and it is realized by Stricked Limited, a subsidiary of Limited Run. In fact, it's a gift!
– Ultra Collector's Edition Box
– Game on Nintendo Switch or PS4
– A poster
– Metal card set
– The Asterix & Obelix figurines
– Piece of money
– Postcard set
– Set of coasters
– 4 stickers
– LED hologram lamp
– 4 art prints
– Certificate of authenticity
– The 3 Asterix games: XXL Romastered, XXL2 Remastered and XXL3: Le Menhir de Cristal!