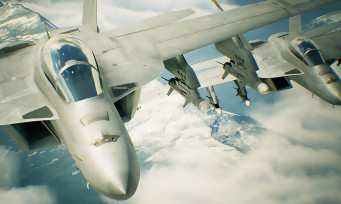 It's been 2 years since Ace Combat 7: Skies Unknown released on PC, PS4 and Xbox One and Bandai Namco Entertainment has decided to release sales figures. And contrary to what one might think, the game sold particularly well, with 2.5 million copies sold, making it one of the most popular episodes of the series. To celebrate this with kindness, the developers have concocted an anniversary video to announce the bonuses that will be added through an update. Without further ado, here is the list of what will be added to the content already present.
SKINS
Scarface Skin (Su-37 Terminator)
Phoenix Skin (F-22A Raptor)
Mobius Skin (F-4E Phantom II)
Crow Skin (F-16C Fighting Falcon)
Gryphus Skin (Raptor F-22A)
Garuda Skin (F-15E Strike Eagle)
Ridgebacks Skin (ASF-X Shinden II)
UPEO Skin (Terminator Su-37)
UPEO Skin (typhoon)
Glowing Skin (X-02S Strike Wyvern)
EMBLEMS
25th Anniversary Nugget -Yellow 13-
25th Anniversary Nugget -Mobius 1-
Ace Combat 7 2nd Anniversary
Shooter
Spooky
Falco
A F
UNICS
Arrows (Low-Vis)
New information followed this second update: the action-simulation game of fighter planes has sold more than 2.5 million copies worldwide.