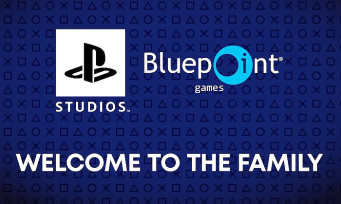 That's it, it's finally official: the Bluepoint Games studio is joining the PlayStation Studios family, along with Housemarque, Nixxes and Firesprite Games, the recent companies that have been acquired over the past three months. It was an open secret, since Sony Interactive Entertainment had made the mistake of announcing the acquisition of the studio last June. Hermen Hulst Head of PlayStation Studios, did not hesitate to play on the leak
via a tweet of circumstance
. It is now 15 studios which belong to the Japanese giant and which will be able to develop exclusive games for its PS5, which is obviously the sinews of war, Microsoft having opted for the same strategy for a few years as well.
None of you saw this acquisition coming! 😊

– Hermen Hulst (@hermenhulst) September 30, 2021
If Bluepoint Games is considered to be the studio specializing in high quality remasters and remakes, the latter is working on an original title this time. An announcement that was made by the studio in person in the wake of the microphone of our colleagues from IGN. Of course, it's still too early to know which game it is, but it will be a real new project and not a new restoration of a cult game from yesteryear. On the other hand, according to the words of the studio, it will be an already established franchise.
For our next project, we are currently working on some original content. We can't talk about what it is, but it's the next step in our evolution.
An acquisition that did not take long to react to the PlayStation community which is delighted with such an arrival, the studio being renowned for its quality work. Based in Austin, Texas, Bluepoint Games will see its team grow in the years to come, as Sony Interactive Entertainment has big ambitions for the latter.