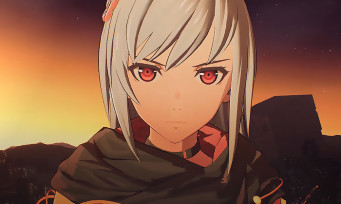 It's done, we finally know the release date of Scarlet Nexus! Bandai Namco Entertainment has indeed split a press release to let us know that its Action-RPG will land in stores on June 25, just for the arrival of summer. All versions are concerned of course, from the PS5 to the PC, including the Xbox Series X | S, PS4 and Xbox One, knowing that collector editions are also part of the game. There will also be two limited editions, the Deluxe version and the Guardians version, which are only available for pre-order on the Bandai Namco Entertainment online store.
The Deluxe Edition (digital version only) includes:
The SCARLET NEXUS video game, a digital Artbook, the original soundtrack, a "red combat outfit" set, the "Others" personalization element and SAS modules.
The Guardians Edition (exclusively available on the BNEE E-commerce store) includes:
The SCARLET NEXUS video game, 3 lithographs, 1 Artbook, BEA stickers, 1 Steelbook and all the digital elements of the Deluxe Edition.
The pre-order bonus includes:
A "red battle dress" set, the "Dreamcatcher" personalization element, the "Seal facial vision" personalization element, Baki accessories.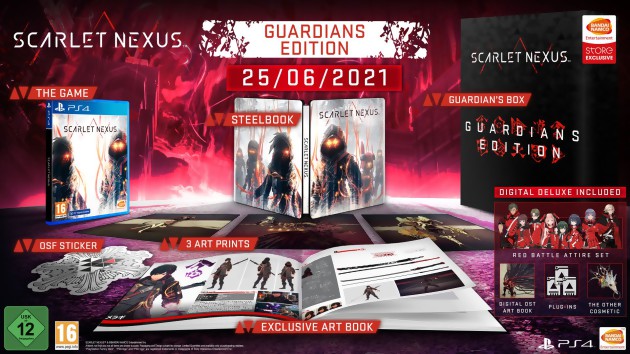 Since good news never comes alone, know that Bandai Namco Entertainment has also planned an animated film that will be broadcast on Wakanim (and produced by Sunrise Inc.) at least next July, which will allow you to learn more about the lore of this new license. But that's not all, since we are entitled to a new trailer centered on Kasane Randall for the occasion, offering a new glimpse of one of the two playable characters of Scarlet Nexus. As we knew, Kasane and the other protagonist, Yuito Sumeragi, will both come up with their own campaign to experience the same story from two different points of view. Note that Kasane is a "mysterious scout whose power and skill have acquired great notoriety among the BEA", while Yuito is "an energetic recruit from a prestigious political family".