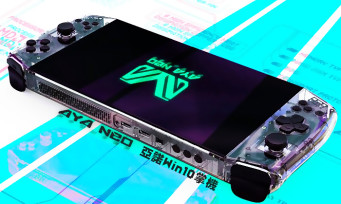 You've never heard of it, and that's okay. The Neo is in fact the first machine marketed by the Aya company, and the latter is absolutely not available outside the Chinese domestic market. At first glance, we recognize the traditional formula of portable consoles, with a screen and controls on the sides (Vita, Game Gear, and Switch), even if the dimensions (25.5 x 10.6 x 2cm and 650g) bring it closer a lot of Nintendo's hybrid console.
In reality, the Neo is more of a PC than a console, since it does not include any proprietary software, or specific game catalog. The machine is content to run Windows 10, which is not necessarily a bad idea, since it immediately gives access to a huge catalog of games. In terms of hardware, this machine also uses classic PC components. The chip is an AMD Ryzen 5 4500 (6 cores which go up to 4.0Ghz) with a Radeon graphics chipset having six CUs at 1500Mhz. This is completed by 16 GB of LPDDR4 RAM and an M.2 SSD offering 512 GB or 1 TB depending on the model.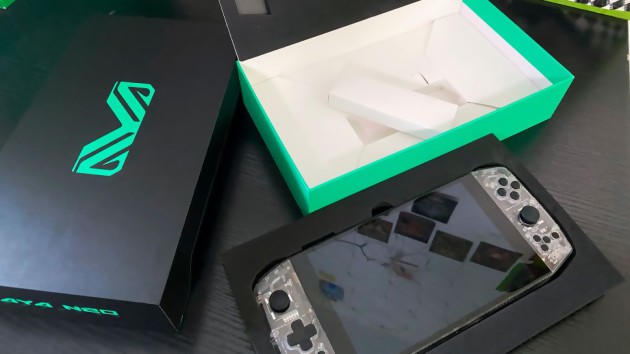 The assembly takes place in a transparent chassis which allows to see a heat sink with copper heat pipes, as well as a small fan. Moreover, the choice of a transparent shell is not trivial, since in addition to reminding us of the GameBoy Color, it allows to take advantage of integrated RGB lighting. Finally, the screen chosen is an IPS HD + panel of 1200 x 800 pixels of 7 inches diagonal. There is also a gravity sensor (an accelerometer in fact) and a gyroscope, which lets us imagine that we will be able to take advantage of features reminiscent of Sony's Sixaxis. Network connectivity is provided by a WiFi 6 module and Bluetooth 5.0, while a USB-C port will charge everything. There is also a classic 3.5mm jack for connecting audio devices.
For now, the Aya Neo is only sold in China, priced at $ 600 (512 GB) or $ 680 (1TB).