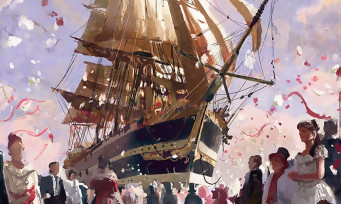 With more than 1.7 million players around the world, Anno 1800 is a nice success for Ubisoft which continues to enrich the content of the game. Also, we learn immediately the availability of Season Pass 3, which is distinguished by the presence of 3 DLC: "Home port", "Tourist season", "Towards the summits", and will introduce 3 exclusive ornaments. Of course, it is possible to buy everything individually, but the overall package is always more advantageous. Before detailing the prices, know that the Season 3 Pass will invite players to discover new activities such as port trade, tourism, the possibility of managing buildings, but also the characteristics of metropolises. We will also note changes in the way of highlighting the cities since the warehouse districts will be modular, while we will see the appearance of tourist buses and skyscrapers.
Functions that will also be found in the first DLC of this Season 3, which will be available on February 23, 2021. There will be a main building, directly inspired by the famous "Speicherstadt" (the largest warehouse district in the world located in Hamburg, Germany, and listed as a UNESCO World Heritage Site). A new way of doing business will debut with this DLC as well, as we will be able to export rare goods and strengthen the economy.
The Season 3 Pass will also allow players to familiarize themselves with the tourism industry with the "Tourist Season" DLC scheduled for spring 2021. In particular, players will be able to entertain their tourists with rewarding activities and delicious dishes cooked by their best restaurants , while setting up a network of tourist buses in their towns. The 'Reaching for the Highs' DLC, available this summer, will allow Anno players to learn how to manage a large city filled with skyscrapers and satisfy demanding citizens by giving them access to new goods and building new ones. shopping centers. This will allow players to customize their Anno 1800 Old World session with all-new elements, such as new landmarks, hotels, restaurants, buildings, and malls to advance their city.
As a result, Ubisoft announces that 2 editions of Year 3 of Anno 1800 are available now and as follows:
– The Complete Year 3 Edition, which includes the main game, the Deluxe Pack and all three Season Passes.
– The Gold Year 3 edition, which includes the main game, the Deluxe pack and the Season 3 Pass.
Note that these editions will replace the old editions of Anno 1800.