The test
Razer has just updated its Ornata mecha-membrane keyboard with a version 2.0 that we had the opportunity to try for a few days to give you our feelings. Quality of typing, game, but also daily use, here is our verdict.
The Razer Ornata is therefore presented as a gaming keyboard using meca-membrane technology. A rather rare term which hides a reality a little different from what our imagination could make us believe. Here, there is no revolution, the keyboard actually uses a completely standard membrane system, like most keyboards on the market, and has been for decades. When you press a key, a membrane locates the point of impact, and then transmits an electrical signal. Here, there is no individualized switch for each key, like on a mechanical keyboard. The prefix "mech" actually comes to underline a small feature added to the keys in order to produce a small audible "click", characteristic of products equipped with clicky switches, of the Cherry MX blue or brown type. The advantage of this system is that it allows to obtain a keyboard much quieter than a real mechanical one, while making big savings in terms of construction, the membrane technology being particularly cheap.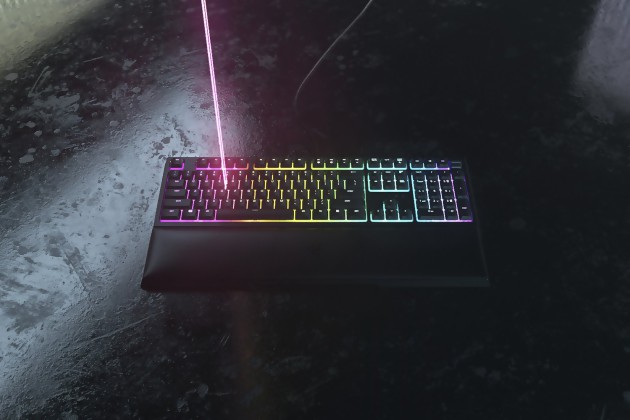 The problem is that the click here does not necessarily correspond to the key actuation point, which means that the auditory information does not mean that your typing has been taken into account. In this specific case, it is necessary to press a little further, and the same applies when releasing the key. This is not necessarily a problem if you are used to a membrane keyboard, but coming from a mechanical keyboard, we admit that we had a little trouble getting used to it. Fortunately, the super short actuation distance is particularly pleasant, and makes typing particularly pleasant. The savings don't stop at the mechanism, since the frame is entirely made of unflattering plastic. Fortunately, we console ourselves with the impeccable Razer finishes. The Ornata V2 has 2-level adjustable feet, a cable-management system, a braided nylon cable with gold-plated USB connector, and a particularly soft palm rest that attaches via a system magnetic. Used to thinner keyboards, we have to admit that we found the thickness of the chassis a bit disturbing, even if the use of the wrist rest greatly reduces this problem. If you are fond of slightly tall peripherals, you should treat yourself to the Ornata V2.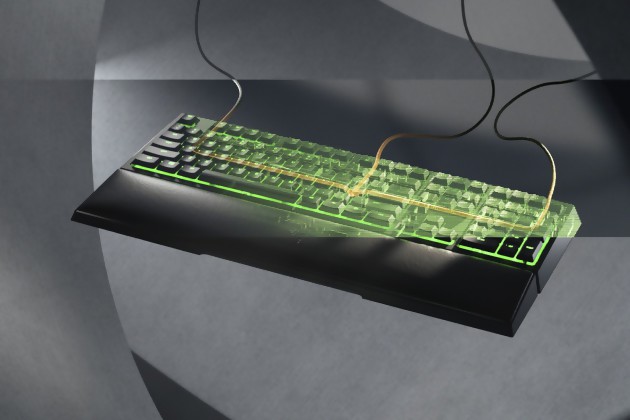 The other novelty compared to the original model is of course the presence of several multimedia keys, as well as a wheel which allows you to easily manage the volume of your PC. Again, the wheel is plastic, but we must admit that its presence is rather rare on membrane keyboards in this price range, which means that we will not be too demanding about it. Since we are talking about price, know that the Ornata V2 is officially displayed at 109.99 €, but that it is widely possible to find it around 90 € by going to the internet, which makes it a relatively well-placed product. . It doesn't forget that, like most Razer products, the latter is equipped with a full 16.8 million color RGB system, and that it is fully configurable through in-house software called Synapse. The latter also allows you to create your own macros, and offers several profiles, even if these are not stored directly on the keyboard, since it does not have memory modules.
The +:
– Well placed price level
– Pleasant strike
– Well done
– Razer Synapse, always efficient
The – :
– The click is not necessarily synchro with the actuation point
– A bit coarse plastic, and 100% plastic
THE GAME RATING: 16/20