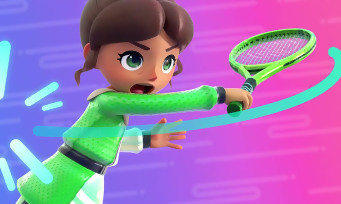 Since 3 p.m., the press has been authorized to deliver its verdict on
Nintendo Switch Sports, the sequel to Wii Sports. For those who have already forgotten, we remind you that this opus offers to discover three new disciplines (football, volleyball and badminton) in addition to three others already present in the original version and the Resort version (chambara , tennis and bowling). At the time of this writing, Nintendo Switch Sports' Metacritic average is 74. Obviously, the user-friendly nature of the compilation is on point, and it looks like the motion recognition is on point. On the other hand, several of our colleagues regret the reduced number of disciplines, and the fact that there is no real novelty compared to Wii Sports.

For the record, the release of Nintendo Switch Sports is scheduled for this Friday, April 29.
JEUXACTU: test and note to come
JV: 16/20
Jeuxvideo.fr: 7/10
God is a Geek: 8.5/10
Twinfinite: 3/5
Gamers: 6/10
Stevivor: 8.5/10
COG connected: 70/100
The Enemy: 4/5
Screen Rating: 4/5
TheGamer: 3.5/5
Digital Trends: 3.5/5
Schacknews: 8/10
Comicbook.com: 3.5/10
Digitally Downloaded: 3.5/10
GAMINGbible: 7/10
The Dailymotion player is loading…