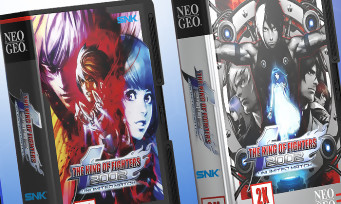 Several things happened that night around
The King of Fighters 2002: Unlimited Match. First of all, SNK has released a new trailer for its game which looks back in particular on the new features expected for this PS4 version. Because beyond technical improvements (enhanced graphics, improved music), the introduction of old and new attacks, a complete rebalancing in the gameplay, the return of the MAX 2 furies for even more explosions of rage to the screen, it is especially the rollback netcode which will clearly be a game-changer for online clashes. The other major event of the evening is Pix'n Love who announced the release of the game in physics, with two collector editions including the official shockboxes of the Neo Geo. As usual, there is the version for small purses at 74.90 € and the other offered at 249 € for the biggest collectors. The cover image changes, but so does the content and we suggest you look at it in more detail: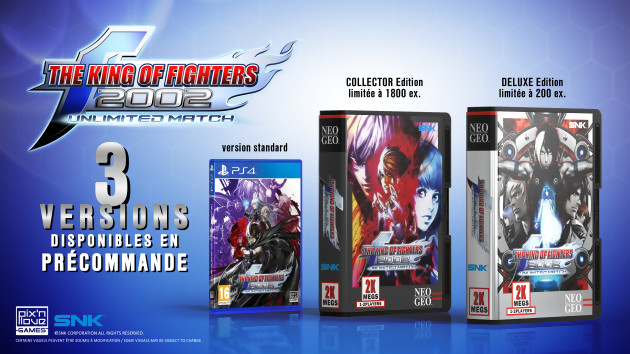 KOF 2002 UNLIMITED MATCH COLLECTOR'S EDITION (PS4)
This exclusive numbered edition includes:
The KOF 2002 Unlimited Match Game (Physical Edition) for PS4
An official NEOGEO box numbered 1800 copies.
An 80-page artbook gathering design documents and unpublished illustrations.
An exclusive CD containing 20 tracks from the game.
Seven recto / verso lithographs in the colors of KOF 2002: Unlimited Match.
2002 KOF "DELUXE" EDITION UNLIMITED MATCH (PS4)
This exclusive numbered edition includes:
The KOF 2002 Unlimited Match Game (Physical Edition) for PS4
A reproduction on aluminum plate of an illustration by the artist Hiroaki (70cm X 50cm).
An official NEOGEO box numbered 200 copies. with reversible jacket and silver Pantone.
An 80-page artbook bringing together design documents and unpublished illustrations.
An exclusive CD containing 20 tracks from the game.
Six recto / verso lithographs in the colors of KOF 2002 UM