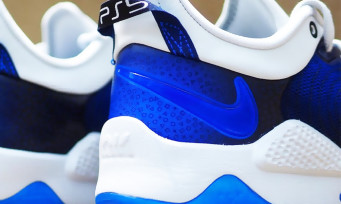 This is not the first time that PlayStation has teamed up with Nike for shoes bearing the image of its consoles:
we had told you some time ago now of the PG 2.5 in the colors of the PSOne
, a true tribute to the first mythical machine of the Japanese manufacturer. Today, even before their official announcement which should therefore not be long, it is sneakers like the popular PS5 that are talking about them with the first interesting images.
We are therefore talking here of two-tone PG 5, sporting the white and blue tones representative of the new generation of Sony, and full of small details: we find for example the tiny symbols Round, Cross, Square and Triangle on different textures (also printed on the "inside" of the console and on the back of the DualSense) or a label adorned with the PS5 logo which will not fail to recall the banner at the top of the current covers.
For the moment, no price or release date has been communicated but it will not be long. Interested?