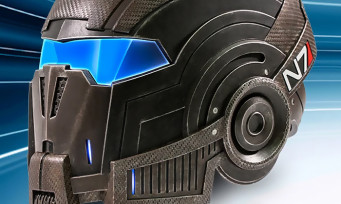 In the wake of the reveal of the release date of Mass Effect Legendary Edition, expected on May 14, we remind you, Bioware hastened to make public the collector's edition of the game,
only accessible on the official studio shop
. A limited edition that has the particularity of offering a perfect replica of Commander Shepard's helmet that can be put on perfectly. Better, the accessory is equipped with diodes that illuminate the helmet to give a little more the feeling of embodying the hero of Mass Effect. In addition to the helmet, there is also a steelbook (but without the game inside), a letter of belonging to N7, three pins, artworks printed on canvas and everything is offered in a cardboard box of the most beautiful effect . We will have to spend the sum of $ 149 to afford this collector who is already eyeing us.
MASS EFFECT LEGENDARY EDITION – COLLECTOR'S EDITION

– 1 Mass Effect Legendary Edition steelbook (game not included)
– 3 pins
– 1 letter N7
– 2 artworks printed on canvas
– a collector's box
– Commander Shepard's N7 helmet scale 1: 1