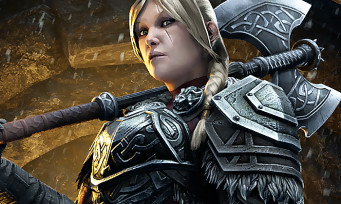 The Elder Scrolls Online will get an enhanced version on Xbox Series S, Xbox Series X, and PS5 starting May 8. This is indeed what Bethesda Softworks announces through an official press release, slipping a video to illustrate some of the graphics improvements. Obviously, current owners of the game on PS4 and Xbox One will be able to take advantage of this update for free, which, in passing, will include Performance and Loyalty modes. Moreover, we are promised more details on these soon.

LIST OF IMPROVEMENTS

60 frames per second : For the first time, you will be able to experience the game in 60 frames per second in "Performance" mode on a console. Previously limited to 30 frames per second, you will now be able to enjoy 60 frames per second sharpness throughout your adventures.
Increased viewing distance : With Console Enhanced, the in-game viewing distance has been nearly doubled for your new console, allowing you to see better than ever as you explore the ever-expanding world of Tamriel.
High Definition Textures : In addition to the higher viewing distance, we have also enabled the latest generation consoles to use high definition textures to achieve an even better rendering on larger screens.
Optimized anti-aliasing : Optimized anti-aliasing has also been implemented to smooth out jagged edges of foliage, grass, and structures in-game, while also making these elements sharper when viewed up close.
Improved reflections : We have also improved the visual appearance by adding reflections to flat surfaces, which has greatly increased the level of detail and realism of the game. The effect is particularly noticeable in areas where there is water (as in Vivec or Summerset). Note that in Performance mode, the reinforcement of reflections may vary depending on whether you are in areas with a high water concentration (such as Tourbevase) or in areas where performance is essential (such as in Cyrodiil or in the events). ).
Improved ambient blackout with global illumination : The improvements to the ambient occlusion of the game with global lighting create a more realistic and natural indirect lighting and greatly improve the level of detail of the shadows in the game.
Optimized shadows : Speaking of shadows, the shadow resolution has been doubled and set to the PC equivalent of "Ultra" – the best possible setting for shadows regardless of ESO version. This includes improvements to shadow distance.
Optimized depth of field : This upgrade allows circular depth of field (the highest setting possible), creating smoother and more realistic backgrounds, especially when interacting with NPCs.
Reduced charging times : Finally, the loading times have been optimized to be much faster than on the consoles of the previous generation, they are practically reduced by half on average.
Note that this next-gen version will follow the release of the Blackwood extension on PC (June 1), the very one that will allow you to discover what happened 800 years before the events of Oblivion.