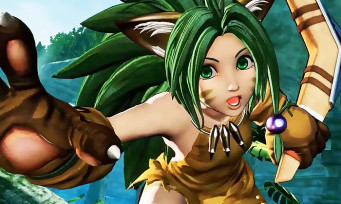 We know since January 8, Cham-Cham will be one of the additional characters to download in DLC, alongside Hibiki Takane from the series of The Last Blade (the 2 more precisely). Within the framework of
Japan Fighting Game Publishers which was held a few moments ago in Japan, SNK not only unveiled a new trailer for KOF XV in order to present

Chizuru Kagura and the Sacred Treasures team (composed in addition to Kyo Kusanagi and Iori Yagami), but also released the gameplay trailer of Tam-Tam's little sister. Those who know the character will observe that she has not changed much, since we find more or less the same attacks, with this famous giant boomerang that she uses to smash the head of the opponent. However, we did not see him throw himself in the face and scratch his opponent like a pissed off little cat. Whatever, the release of Cham-Cham in personal DLC is scheduled for March 16. Along with a complete game rebalance.