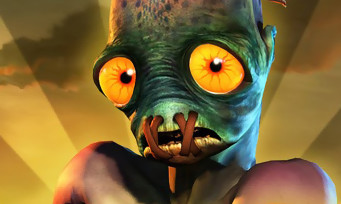 To say the least, Oddworld is doing more than just taking center stage right now. Indeed, Oddworld Inhabitants communicates massively on
Oddworld: Soulstorm which, we remind you, will be released on April 6 on PC, PS4 and PS5. And as if that weren't enough, Microids decided to give it a diaper with Oddworld Collection, a compilation bringing together in a single cartridge Oddworld: New'n'Tasty, Oddworld: Munch's Oddysee, and Oddworld: Stranger's Wrath.

We are not going to lie, this announcement mainly concerns those who absolutely want to fill their shelves, the three games are already available in dematerialized on the eShop. Moreover, until April 14, Munch's Oddysee and New'n'Tasty are offered at a price of € 9.99 (against € 29.99 usually). As for New'n'Tasty, it costs € 19.99. Oddworld Collection is expected on May 27.
Oddworld: New'n'Tasty?
Oddworld: Munch's Oddysee?
Oddworld: Stranger's Wrath?

Don't choose! The 3 games are in the same cartridge. Oddworld: Collection will be available on May 27 for Nintendo Switch. pic.twitter.com/Na7fPSYUcA

– Microids (@Microids_off) April 1, 2021