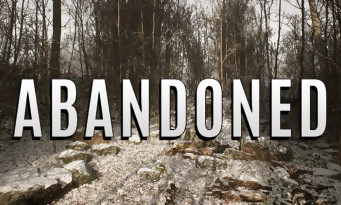 Nobody expected it, so here we are particularly surprised:
Sony has just unveiled an unprecedented exclusive by the name of Abandoned, a very mysterious survival horror whose first trailer has just been released.
Not much is yet known about this horror project other than that it is a game reserved only for the PlayStation 5, that it is scheduled for the fourth quarter of 2021 and that it is developed by
Blue Box Game Studios, a virtually unknown Dutch studio. However, his game director, Hasan Kahraman, allowed himself some interesting statements:

The hero will be called Jason Longfield and will have amnesia: finding himself by force in an enigmatic forest, he will have to get out by all means.
This is a realistic survival game: each shot will be precious and will need to be thought through in advance while the aim will depend on Jason's heart rate (depending on his fear or shortness of breath, for example).
The 3D audio of the PS5 will be used for maximum immersion, which will directly influence the gameplay to better identify with the dangers.
We will also note the photorealistic rendering of the title seen in the trailer below, which suggests that Abandoned will also benefit from the technical capabilities of the PlayStation 5. Finally, let us note to silence the rumors that no, it is not the Hideo Kojima's next game hidden under yet another alias, Blue Box Game Studios having denied the hallway noises by claiming to have
"no link"
with the Japanese developer and not be "
a small group of developers plowing on an exciting title "long desired.

In short, we wait for concrete gameplay and until then, we touch wood to be pleasantly surprised!