The test
Time loops are all the rage, and that's good! This principle opens up new perspectives and there is something for everyone. That of the cute Minit lasts for example only one minute, that of Outer Wilds reaches twenty-two minutes, that of The Forgotten City depends entirely on your actions, and that of Deathloop extends over a whole day. As for the twelve minutes which give its title to the creation of Luis Antonio, we will immediately see what they are made of!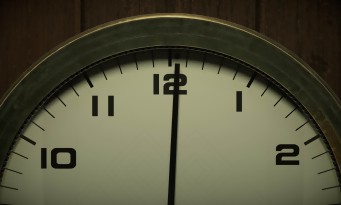 The evening starts off pretty well for our everyday hero, who returns home and finds his wife for a romantic dinner. But after a few minutes, a police officer arrives in the apartment, handcuffs the wife and accuses her of parricide, her father having died eight years ago. And now … it's your turn! Are you going to try to fight? If this is the case, know that the cop (or thug?) Will always have the upper hand and will kill you or send you out. Either way, you'll wake up on your doorstep and be amazed to find that this half-romantic, half-dramatic evening has just started all over again. And it will always be the same as soon as twelve minutes have elapsed since you entered the apartment. Welcome to the loop! If you remember past (or rather future, suddenly) events, your wife is not aware of it. You are free to try to convince her of what will happen, or to put in place a plan for things to turn out differently.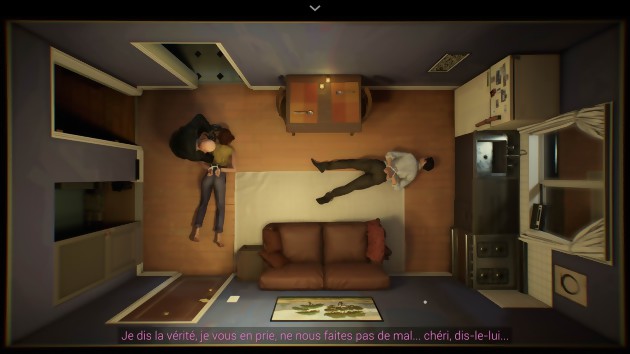 Regarding the gameplay itself, Twelve Minutes is a real adventure game, which takes on its own the main principles of point and click. You therefore have a system of multiple choice dialogues, interactive areas and a few transportable objects. But the concept of time loop brings new life to puzzles. It is necessary to think "out of the box" and we feel a real relief when after several unsuccessful attempts, one of our ideas finally turns out to be functional. Besides, the lifespan depends greatly on your sagacity. We reached the first real end of the game (there are six in all, one or two of which are almost a snap) in just three hours, while some of our colleagues (whom we won't name, out of charity Christian) took eight hours to reach this stage, and were stuck for a long time at certain crucial stages.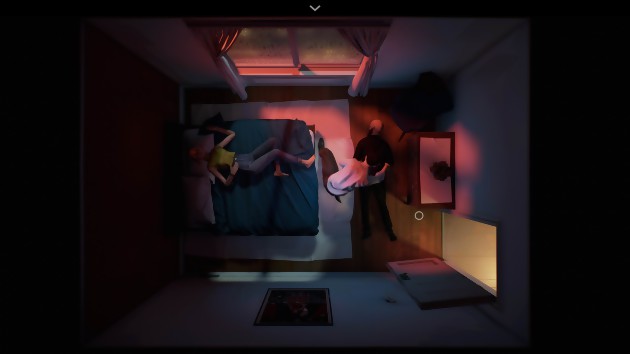 AGAINST THE WATCH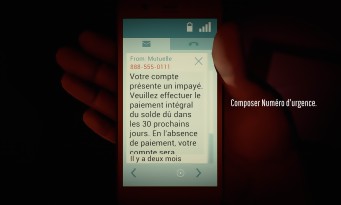 Beyond its purely playful qualities, Twelve Minutes is also worthy of its atmosphere and its staging. The bias of a top view camera works all the better as the game takes place almost entirely in a modest apartment consisting of a main room, a bedroom, a bathroom and a living room. tiny closet. It emerges from the whole an atmosphere of closed doors which adds to the dramatic force of the story. Moreover, the latter does not hesitate to play the card of the scenario twist impossible to see coming. And what a twist! We will not say a word as to its exact nature, but be aware that it has disturbed many players. For us, this is one of the greatest successes of the adventure, but it is fully subjective.
Very cinematic at heart, Twelve Minutes also provides voice casting, since it calls on James McAvoy, Daisy Ridley and Willem Dafoe. Suffice to say that the VOSTFR is a delight. Unique decor and top view oblige, we are dealing with something quite simple graphically. Fortunately, this simplicity does not lack aestheticism, the perspective and the pretty light effects proving to be very attractive. In contrast, the character animation is far too rigid for a modern game. Which is also very surprising since the developers have used the sacrosanct motion capture. The dialogue system is also sinful, because some lines are linked rather badly with each other or do not perfectly take into account the different past loops. Nothing catastrophic, but these small inconveniences still reduce the overall enjoyment of the game.