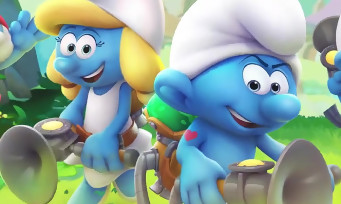 Available on PC since October 26,
The Smurfs: Mission Malfeuille had seen its release date postponed for a few days on consoles due to "logistical problems". Now that the fateful day has arrived, Microids invites us to discover the launch trailer in which we discover a little more gameplay images of this action-adventure game that borrows a lot from Mario Sunshine. Developed by Osome Studio, the game tells a new story in which
Gargamel has got his hands on the formula for an evil plant: Malfeuille. This plant produces seeds that have the power to attract and capture Smurfs, not to mention that it is also a danger to the forest because of its toxicity. Fortunately, thanks to the Vaporisaschtroumpf, an invention of the handyman Smurf, our little blue beings will be able to clean everything.