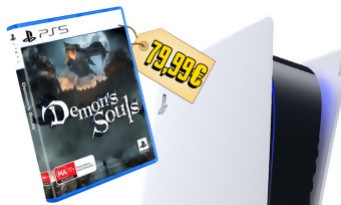 This is one of the big bad buzz of this new generation: some publishers will increase the prices of their games by ten euros, including Sony on several of its first party titles. This is already the case for Demon's Souls, yet a remake, now available for the hefty price of 79.99 euros. Across the Channel, the price has also changed depending, now changed to 70 pounds sterling: but is this justified? This is precisely the question that was asked to Jim Ryan, boss of Sony Interactive Entertainment, by the English of The Telegraph during an interview. And the American responded without hesitation.
Yes I think so. If you count the number of hours of entertainment that a game like Demon's Souls provides and compare it to that provided by any other form of entertainment, I think that's a fair comparison.

So, according to Jim Ryan, the longer a game, the more relevant its high price. Words far removed from those of 2K Games, which declared that a price increase depended mainly on increasing production costs to develop a video game. In yet another genre, Capcom declared, not long ago, that the price of a game should not exceed the purchasing power of the customers … We will have to agree, gentlemen.