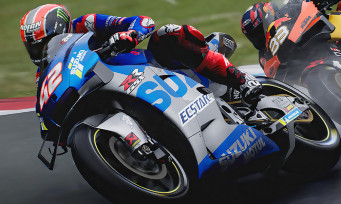 Freshly announced at the start of the month,
MotoGP 21 gives us the pleasure to give us some news again. Milestone, both publisher and developer on the title, indeed reveals that its racing game will land on April 22, 2021 on PC, PS5, Xbox Series X | S, PS4, Xbox One and even Nintendo Switch, no jealousy. The developers take the opportunity to give an overview of the content of the game, including details on the new version of the "Manager career" mode which allows you to go further in management via new features. Likewise, on the customization side, the game promises to be ultra complete and above all even closer to reality. While waiting for Damien Greffet to test the game long, wide and across, here is what Milestine promises us for this new iteration:
The future of motorcycle racing games is here!
This year, the gameplay has also been reworked, including new iconic features. The objective is to offer a racing simulation filled with adrenaline and strategy.
Motorcycle recovery sequence. When you fall, you will not automatically reappear on the track. You will need to get up and get back on your motorcycle as quickly as possible. Be careful of the way you take the turns.


Brake temperature. Running isn't just about speed, it's also about strategy. Indeed, managing the temperature of your brakes is the key to keeping the situation under control. If the temperature is too high or too low, they may lose efficiency.


Time penalty. This much requested feature is finally present in MotoGP. This means that the penalties can now be more specific.


Motorcycle suspension system. The level of realism increases further. This feature is dedicated to all motorcycle simulation lovers.