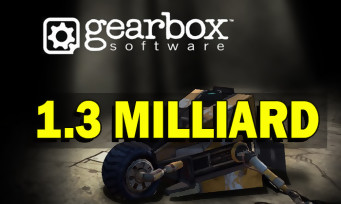 Who can stop Embracer Group's ravenous appetite? A European video game distribution company based in Karlstad, Sweden, it already has a stronghold in the video game world by owning publishers KOCH Media, Deep Silver, THQ Nordic, Coffee Stain, Amplifier Game Invest, Saber Interactive, DECA Games, Easybrain and since a few hours Gearbox Software, it's official. A repurchase to the tune of 1.3 billion dollars which stands out as follows: 363 million dollars immediately, to which is added an additional 1 billion if the financial objectives of Gearbox are reached over the next six years. Very happy with this transaction, Randy Pitchford, the current CEO of Gearbox Software retains his position within the company and can only be happy with such an acquisition.
Lars (Wingefors, CEO of Embracer Group) vision for Embracer as an allied partner group committed to fueling and accelerating the ambitions of a series of decentralized and successful entrepreneurial companies while magnifying the collective value and benefits of Diversification across the group is the most successful short, medium and long term strategy I have ever encountered in my 30 years in this industry. Our feeling at Gearbox is that we are just getting started and this transaction is not only a boost to the talent of our company, owned by its employees, but a propellant for the exciting future that we have foreseen.
Due to this rather unexpected takeover, Embracer Group gets its hands on the two Gearbox Software studios, the first being based in Dallas, Texas, the other in Canada in Quebec City. The goal for Embracer Group and Gearbox is to expand their presence around the world by opening new branches, in order to create new games. As for the issue of the Borderlands license, undoubtedly the only bankable license within Gearbox Software, it remains for the moment a joint deal between 2K Games and the firm of Randy Pitchford who keeps their partnership to continue to develop other games. In other words, as of this writing, Embracer Group has yet to get its hands on the studio's real goose that lays golden eggs. It may still be too late to say it, but Randy Pitchford seems to have done a nice sleight of hand at Embracer Group. He is strong.