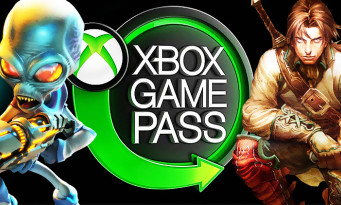 A few weeks ago, Microsoft communicated
the new games that will be included in Xbox Game Pass in April
: GTA 5 was notably part of the lot and the Rockstar hit was downright playable via xCloud (and still is, of course).
The Redmond firm had obviously still under the hood and has just announced the new batch to come, still for this month, including six games from all walks of life.
In the heap, we therefore count the classic Fable III, the recent remake Destroy All Humans! and downright the all newcomer Second Extinction, FPS nag turned towards aggressive dinosaurs. Note also the arrival of MLB The Show 21, still surprising when we know that it comes from the stables of … Sony. Good game everyone !
NEW XBOX GAME PASS GAMES IN APRIL 2021
MLB The Show 21 (Xbox, xCloud, available now)
Phogs (PC, April 22)
Second Extinction (PC, Xbox, xCloud, April 28)
Destroy All Humans Remake (PC, Xbox, xCloud, April 29)
Fable III (xCloud, April 30)
Fable Anniversary (xCloud, April 30)