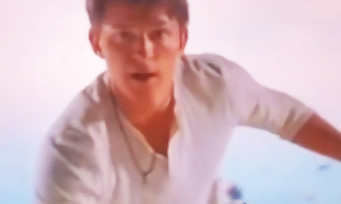 While some insiders announced the arrival of the first teaser trailer for the film Uncharted for Thursday, October 21, 2021, a leak has decided that it would be otherwise. Indeed, for a few minutes, it is possible to discover the very first images of the film adaptation of one of the greatest sagas of video games. This leak, filmed with a phone, allows us to appreciate in less than a minute the character of Nathan Drake played on the screen by Tom Holland. It is recalled that the American actor, who made himself known worldwide for his role of Spider-Man / Peter Parker, will represent a younger Drake, but still as skilled if we judge the sequence presented. This is nothing more or less than the famous scene of the cargo plane flying over a desert and full of containers, modified slightly for the needs of the film, since our hero now appears to be above a blue sea- turquoise.
The little leak of the evening is the teaser trailer for UNCHARTED THE FILM, which covers one of the major scenes of Uncharted 3.

Reminder: Tom Holland as young Nathan Drake and Mark Wahlberg as Sully.

What do you think ? pic.twitter.com/WVsT7RfMiZ

– Maxime CHAO (@MaximeChao) 20 October 2021
But whatever, if we find the spectacular side of the video game, many Internet users have railed against the special effects that do not seem perfectly integrated, besides the notion of weightlessness with the jump of Tom Holland looks more like Spider-Man than the Goofy Adventurer. We hope that the rendering will be better once the trailer is published in 4K on YouTube. Otherwise, we recall that in the film, there is also Mark Wahlberg who plays the role of Sully, while Antonio Banderas will probably play the villain. For the record, the shooting of Uncharted the film was made before that of Spider-Man: No Way Home which will be released two months before. Indeed, Uncharted the film is expected for February 18, 2022, according to the leak.