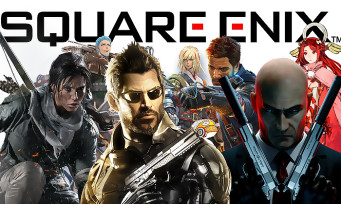 Without warning, Embrace announcement through an official press release having reached an agreement with Square Enix to buy not only its Western studios (Crystal Dynamics, Eidos Montreal, Square Enix Montreal, for a total of 1,100 employees), but also several of its licenses such as TOMB RAIDER, Thief, Legacy of Kein , Deus Ex. The group specifies that the deal also covers about fifty games from the back catalog, and that the total cost of this acquisition – which no one had seen coming – amounts to 300 million dollars. If Square Enix therefore seems to give priority to its Japanese studios, note all the same that it does not definitively turn its back on the West either. Indeed, the publisher retains the rights to Outriders, Just Cause and Life is Strange, not to mention the British teams of Square Enix External Studios and those of Square Enix Collective (in charge of independent games).
Of course, observers wonder why Square Enix decided to part with licenses that have sold millions of copies worldwide. " This agreement will help the company adapt to the changes currently affecting the global business environment, including a better allocation of resources, which will increase its valuecan we read in the press release sent to the shareholders of the group. In addition, this takeover will be an opportunity to launch new activities and invest in new areas such as blockchain, AI and the Cloud. As always in such circumstances, the purchased studios are wondering about their future. From this point of view, Embracer is reassuring.
" It was a great pleasure to meet the management teams and talk about the future so that they can realize their ambitions and become an important part of Embracer commented Lars Wingefors, co-founder and President of Embracer. " This fits perfectly with our ambitions: to make very high quality games with talented people, and to develop our existing licenses in the best possible way.for his part indicated Phil Rogers, President of Square Enix America and Europe. Embracer gives us the opportunity to build new partnerships across a variety of media to maximize the potential of our franchises and realize our dream of delivering the most incredible entertainment experience possible. A priori, the agreement should not be finalized with the second quarter of the current fiscal year, that is to say between July and September 2022.
Finally, remember that this takeover echoes comments made recently by the boss of Square Enix, Yosuke Matsuda. Indeed, he explained that " the Japanese market has always been important, but today it is behind China and the United States. If you don't have global reach, you can't exist. But what's interesting is that if Japanese developers try to ape Western games, they won't perform well. Monster design, visual effects and sound design still have that Japanese style. Players around the world know what makes Japanese games great. Once again, foreign markets are important, but it is not a question of developing games only taking into account their tastes. »