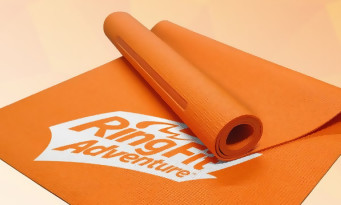 Available since October 18, 2019,
Ring Fit Adventure will soon benefit from an official floor mat. This is indeed what Hori announces in a press release, where it is specified that the object is obviously designed with the collaboration of Nintendo. The sketches provided by the manufacturer show that it will be possible to fold it in half, which will increase its thickness from 4 to 8 mm. Ideal, therefore, for practicing the many floor exercises contained in Ring Fit Adventure. Moreover, one wonders why the Kyoto firm did not draw such an accessory earlier, which would have made it possible not to squat on the carpet of the coffee table.

More seriously, knowing the quality of Hori arcade sticks, we can imagine that this floor mat has received the same care. We hope so in any case, the price having been set at 6,300 yen (48 € and dust). For comparison, in major sports brands, you can find fitness mats for half as much, or even more. We trust purists to deliver their first impressions as soon as possible. Ah yes, one more thing: release planned for next June.