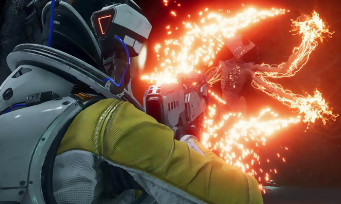 While waiting for Maxime to finish his Returnal test (if he succeeds), we invite you to discover a new gameplay video. For almost 30 minutes,
Mikael Haveri (Housemarque marketing director), Gregory Louden (narrative director) and Harry Krueger (director) discuss different aspects of the game. "This video shows you an early part of the process, where Selene has just unlocked a melee weapon and has already started exploring the first sections of the ruins., we are told. From there, we get a look at the first real boss and then the second region of the game, which is the Crimson Desert."

Exclusive to the PS5 and officially available since today, Returnal has already sickened more than one by its extreme difficulty. Moreover, some media have admitted not being able to offer a test worthy of the name, the ruthless nature of the game having got the better of their courage. Suddenly, many players wonder if Housemarque would not do better to integrate an "Easy" mode, just not to demotivate the less reckless. The kind of debate Soulsborne fans are already experiencing.