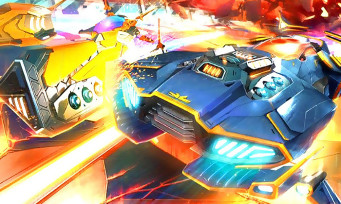 While the release of Redout 2 next week (May 26) seemed to be confirmed, Saber Interactive announces via a tweet that the launch of the game has finally been postponed to June 16 on Xbox Series X, Xbox One, Xbox Series S, PS4, PS5, PC and Nintendo Switch. According to the publisher, "the fastest racing game in the universe just needs some extra time to be ready to go.Simply put, the developers at 34BigThings want to deliver the best gaming experience possible, which is quite commendable.
This will help ensure we're firing on all cylinders out of the gate and delivering the best gameplay experience for everyone. We apologize for the inconvenience and look forward to racing with you all soon!

The Redout 2 Team

— Redout 2 (@redout2game) May 20, 2022
We take this opportunity to remind you that Redout 2 will offer 36 circuits for a total of 72 tracks, both solo and in multiplayer at 12 (6 on Nintendo Switch). We are also promised a "Photo" mode as well as a dozen machines available. Finally, the soundtrack will include songs from top artists such as Dance with the Dead and the legend Giorgio Moroder.