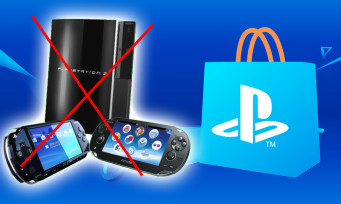 After rumors and
a frankly announcing gesture
, no more room for doubt: yes,
The PlayStation Store for PS3, PS Vita and PSP will indeed close its doors
… forever. Sony officially announced it yesterday through a press release covering the different modalities: thus,
it will no longer be possible to purchase digital games on PlayStation 3 from July 2, 2021 and on PlayStation Vita and PlayStation Portable from August 27, 2021.
Note that the digital stores in question have already been deactivated on the web, making them inaccessible from a browser:
Basically, you have until the deadlines mentioned above to turn on your machine and buy a few last games. It will be the same for in-game purchases, which will become impossible to achieve.
Important fact to know all the same, all your already paid titles (as well as video and multimedia content) can still be downloaded at any time from the dedicated tab of the PS Store. And if you still have some money left in your wallet, it can be spent on PS4 or PS5 games. Likewise, if you only have a PS3, PSP or PS Vita and you are registered for PlayStation Plus, this will not terminate your subscription which will still be valid on recent machines.
For the complete listing of information, we advise you to take a look here on the official PlayStation website. It's officially the end of an era … and the heartache is very present.